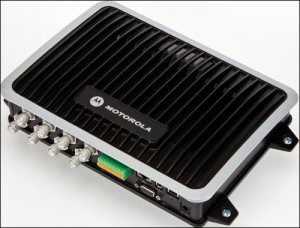 Motorola Solutions, a provider of mission-critical communication products and services for enterprise and government customers, today introduced the FX9500 industrial-class fixed RFID reader for reading RFID-enabled pallets, cases and items at dock doors, conveyors and other industrial portal-based read points.
As RFID technology has evolved and improved, RFID-based business solutions have expanded to address a wider variety of use cases. RFID solutions can now be applied to RF-challenged items such as those with high liquid or metal content, or in situations requiring much higher read performance – such as reading tags in the middle of densely packed pallets.
"Businesses look to RFID and industrial fixed RFID reader solutions to achieve near 100 percent shipping, receiving and order accuracy. Motorola Solutions is the market share leader in UHF RFID readers, and our new high-performance FX9500 reader will enable organisations to leverage the increased asset visibility and operational efficiencies of RFID across their supply chains," Mike Poldino, GM of RFID, Motorola Solutions.
According to Motorola, the Motorola FX9500 is a rugged, high-performance fixed RFID reader built for demanding industrial RFID applications in manufacturing, distribution and warehouse, and retail receiving environments.
Motorola said that some of the features of the FX9500 include, increased sensitivity yielding greater accuracy for reading RF-challenging items, longer read ranges for applications such as yard management and higher throughput rates to read more tags as item-level RFID adoption increases and densely packed goods become more commonplace.
"The growth of passive UHF RFID adoption has resulted in additional performance requirements – needing to read more tags, in more applications, with greater efficiency. With the FX9500 industrial fixed reader, Motorola Solutions addresses these high-performance requirements, allowing industrial enterprise RFID users to secure a four- or eight-port passive UHF reader that meets user cost-performance and application needs,"said Michael Liard, RFID and barcode research director, ABI Research.
The company added that the FX9500 is available in four-port or antenna configurations, as well as eight-port or antenna configurations that can cover more portals or dock doors with fewer readers, saving on deployment costs and achieving a lower cost per read point. In  addition to which, Motorola said that the FX9500 allows for bistatic operation, where separate cables are used for antenna transmitting and receiving, for even higher RFID performance.
The FX9500 RFID reader is expected to be available in the third quarter of 2011 from Motorola Solutions or through PartnerEmpower partners, the company said.