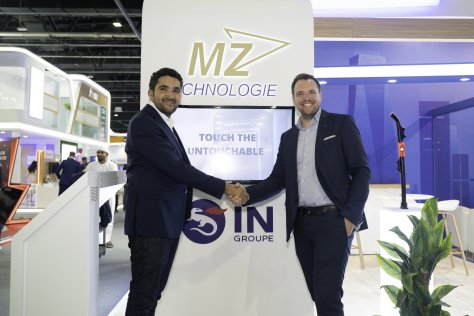 MZ Technologie, the acclaimed specialist in the field of contactless and IN Groupe, the global specialist in identity and secure digital services celebrated their one year of partnership at GITEX Global.
"We are ecstatic to be celebrating this milestone with IN Groupe at the world's largest technology exhibition, GITEX Global", said Jonathan Zerad, Chief Technology Officer and Co-Founder, MZ Technologie.
The partnership between MZ Technologie and IN Groupe has enabled both companies to advance contactless technology and jointly develop the 'Virtual Frame', an innovative and contactless self-service solution that is designed to meet the highest standards of confidentiality, security, as well as health and safety standards.
"We have found the perfect partner in MZ Technologie to improve traveller and customer experience. IN Groupe supports business development of the solution and we are really excited about introducing the Virtual Frame technology across the MENA region. A great opportunity to work on developing new innovations and a playground together in the years to come. Touchless interaction with any digital signage will create opportunities beyond the travel ecosystem", added Vincent Roux, Border & Traveller Experience BL Director, IN Groupe.
Virtual Frame incorporates a floating interactive projection system which does not require any physical interaction with the screen. The self-service kiosks mainly allow interaction that can integrate biometrics management; the creation, management, use of a digital identity; the reading of identity and travel documents anywhere in the world.
Virtual Frame is characterised by its optimal end-to-end integration capability: as a plug and play solution that can easily be installed on any existing kiosk.
Furthermore, MZ Technologie recently set up a joint venture and opened an office in Dubai to serve the Middle East market in partnership with a leading development firm.
The Virtual Frame as well as MZ Technologie's other contactless solutions including the HOLOBOX, HOLOSTOP, IRO and interactive digital signage are on display at GITEX Global. Visit MZ Technologie & IN Groupe in Hall 2 – Stand C25 at GITEX Global 2022 and experience the feeling of touching the untouchable!
For further information, please visit www.mz-technologie.com