Veronica Martin spoke to Mahmoud Nimer, President at StarLink during GITEX Global about the new products and solutions they are demonstrating and launching, key technologies and trends driving innovation and what value GITEX brings to StarLink.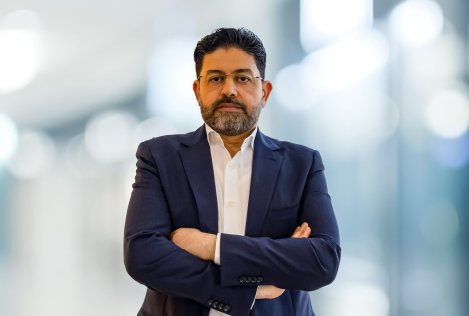 Can you tell our readers what new products and solutions you are demonstrating and launching here this week at GITEX Global?
We are a specialized distributor, and we are three main areas of focus are cybersecurity, cloud, and intelligent automation. This year we have launched a lot of products and new technologies within each domain. Our approach is different from the other distributors because we believe in solution selling. Every year we select the vendors who fill a gap within our portfolio, but it's not just about adding vendors to it.  Our objective of that is to fill those gaps and some are relevant to artificial intelligence. For example, within cybersecurity, this is something new and we are counting on data analytics within cybersecurity. These are the areas that we are focusing on.
From your company's perspective, what are the key technologies and trends that you're seeing that will drive your innovation and product roadmap for the next 12 months?
We believe in installing the combination between cybersecurity, cloud and intelligent automation is a transformation engine, which is really driving our acceleration and growth in the future, an each one of them is dependent on the other. For example, you see now the trend that the cloud is everywhere in the region and it's adopted, but it requires cybersecurity. Cybersecurity by itself is a dynamic domain as every day there is something new.
We are leaders in cybersecurity as for the last 18 years we have been focusing on cybersecurity. Many of the vendors who are there established today on the market, they were brought by StarLink, they have grown with us, and we have shared their support. Intelligent automation is also a new domain.
We are focusing on the digital transformation journey, which is happening today in the market because with it, customers notice they have a lot of valuable data that they are not using for their benefit when it comes to their business. We are also focusing on helping those customers to leverage on the data in terms of data analytics, prediction and business orientation, so they can achieve their business objectives.
How important is an event like GITEX Global for your company – and what value does it bring to your organization?
We are participating in GITEX since we started and is the main event for us as it's a fantastic event that brings everyone together. It's not just a marketing event, it's really a technology event. During GITEX all companies bring the new technologies to the market, so it's a great platform to launch all the new technologies.
Having all departments, customers, vendors and distributors under one roof allow everyone to exchange these solutions, IDs and technologies for the benefit of the market. For us GITEX is truly iconic actually and we really valued and appreciated it since it started.