Miguel Khouri, General Manager at GBM Abu Dhabi outlines GBM's current presence in the region, how GBM is supporting organizations with AI, and the emerging technology innovations that businesses should look to for sustainability.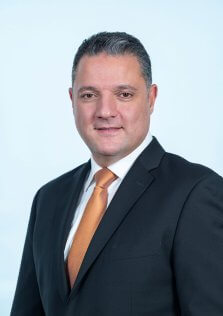 Could you provide us with insights into GBM's current presence in the region?
GBM takes pride in its extensive legacy, encompassing more than three decades of operation within the region. With a dedicated workforce of over 1,500 professionals and a deeply entrenched local presence, we have played a pivotal role in driving the digital transformation of both public and private sectors. Our enduring commitment to the region has enabled us to make substantial contributions to the advancement of the region's digital landscape. Our comprehensive offerings encompass a wide-ranging portfolio that includes industry-leading infrastructure solutions, business solutions, Cloud and Security solutions, as well as professional and managed services. These enable us to empower our clients to thrive in the ever-evolving digital world.
As a leading end-to-end digital solutions provider, our focus remains on collaborating with regional organizations to elevate their IT infrastructure and accelerate their digital transformation initiatives. We actively engage with organizations spanning various sectors, championing the adoption of cutting-edge and transformative technologies. We firmly believe that these technologies serve as pivotal catalysts for business growth and success.
How are GBM's product offerings and solutions specifically designed to alleviate the challenges faced by customers within the dynamic digital landscape?
GBM's solutions are designed to facilitate the ongoing digital transformation journey, ensuring that businesses not only thrive but also skillfully adapt to the dynamic technology landscape. Our in-depth local knowledge and extensive experience are the cornerstones of our commitment to digitalization. We recognize the unique challenges faced by regional CIOs and CISOs, and our solutions and services framework is  designed to fortify organizations with industry-leading technology solutions.
A prime facet of our commitment involves partnering with our clients to transition their existing legacy setups into agile and adaptable infrastructures. Our ongoing dialogues with businesses are centered on driving operational transformation through comprehensive digital solutions while prioritizing robust cybersecurity measures. We are also actively championing organizations to integrate cutting-edge technologies such as AI/ML, Big Data, and Analytics to forge resilient and future-ready IT infrastructures. Our approach encourages businesses to adopt a strategic, long-term perspective when implementing new technologies, focusing on aligning technological changes with their overarching business priorities, instead of hasty, all-encompassing technological overhauls. Our unwavering dedication to the pursuit of innovation positions us as a trusted partner for businesses seeking to navigate the digital age successfully.

In light of emerging AI adoption and trends, how is GBM supporting organizations on their AI journeys?
As an end-to-end digital solutions provider, we are committed to continuously educating our customers, enabling them to stay informed about AI industry and market developments, encouraging them to make informed decisions. We also guide our clients in accessing the right tools, skills, technologies, and connections within their journeys. This fosters mutual learning and growth, ensuring they have the necessary resources at their disposal.
Implementing AI is an ongoing process, and successful enterprises require a dedicated partner to overcome challenges, find new inspiration, and drive innovation. GBM plays a crucial role in supporting clients throughout the entire data and AI life cycle, from advisory and design to the creation of robust information architectures that support advanced AI applications.
What are some of the emerging technology innovations that businesses should keep an eye on to help achieve their sustainability goals?
The AI spectrum is by far the most promising sustainable technology innovation when employed in association with other technologies such as IoT. It holds significant promise for sustainable innovation, especially within sectors such as utility services and transportation. Take the example of Smart City approaches that incorporate smart sensors, 5G, and Machine Learning. These can reduce carbon emissions by optimizing traffic flow in real-time, benefitting both urban planning and supply chain logistics.
Cloud computing is also a crucial technology for reducing emissions, especially for small to medium-sized companies, who need IT and all the components associated with it to run their business, such as cyber-security, websites, applications' compute, and disaster recovery. It enables scalability, reduces energy usage, and supports the deployment of innovative applications. Furthermore, implementing a multi-cloud strategy is also helpful to organizations as the ability to quickly scale up or down has a substantial impact on energy usage and carbon reduction. Deploying the latest, most innovative applications within one's business is also faster and more efficient on the cloud.
In addition, having agile storage capacity matched with the right infrastructure to reduce operational costs and simplify compliance, helps to deliver the scalability that nations need to meet their clean energy targets. I think the term 'sustainability' must also be considered within the context of cyber resilience. Cyber resilience is a vital aspect of sustainability, as digital infrastructure and applications must be protected from cyber threats to ensure uninterrupted operations and efficiency.
Could you elaborate on GBM's participation and activities at this year's GITEX event?
We're excited to have been a part of this year's GITEX, as it presents an immense opportunity for the public and private sectors as well as technology providers from all over the world to come together and showcase their innovative solutions learn from each other, further driving the UAE's national vision and goals for economic diversification. Collaborating alongside IBM, visitors to the joint GBM-IBM booth were able to see cutting-edge solutions tailored for AI Ops (Artificial Intelligence for Operations) and business automation, with the overarching goal of empowering organizations on their transformative journey toward operational excellence.
GBM experts also shared insights on the latest AI Ops solutions and how big data, machine learning, and automation platforms can help aggregate siloed IT operations including, data, teams and tools to maximize operations.  This year, we also focused on sustainability, driven by our commitment to accelerate both our clients and the region's ESG adoption in alignment with regional commitments to COP 28. Customers were able to explore sustainability solutions with a clear roadmap that aligns seamlessly with their ESG goals.