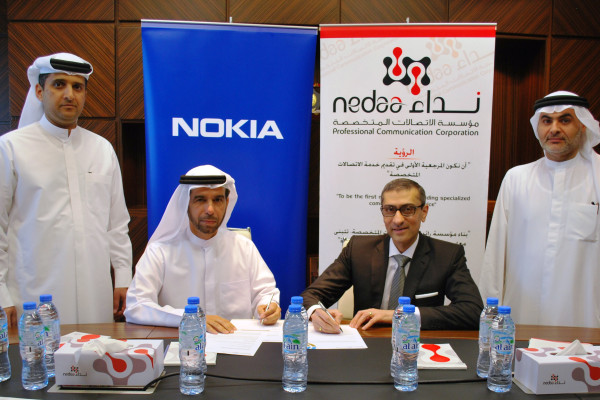 Nedaa, Professional Communication Corporation, the Dubai Government security networks provider, and its approved technology provider Esharah Etisalat Security Solutions, have commissioned Nokia to deploy a Smart City solution based on a 5G-ready next-generation network that will enable high-bandwidth voice, video and other data applications for mission-critical services and Internet of Things (IoT) applications.
The comprehensive scope of the project includes the supply of 5G-ready, mission-critical network consisting of comprehensive security solutions, core and radio access solutions, and IP/MPLS, optical and microwave backhaul network, along with professional services.
Network resources will be shared by various government agencies and departments, enabling the provision of seamless connected services to address stringent requirements for critical communications. Nedaa has appointed Esharah Etisalat Security Solutions to oversee this mission-critical network deployment by Nokia over the next two years.
Yousif Al Ali, Chief Technical Officer, Nedaa, said, "Dubai has historically pioneered in providing exceptional quality of life, and an unparalleled business and technology innovation environment, inspired by His Highness Sheikh Mohammed bin Rashid Al Maktoum's vision to make Dubai the happiest city on earth. Nokia has been an integral part of Dubai's security communications network since 2001, and the company's eagerness to adapt to our new, stringent security requirements gives us the confidence to make our city the safest and smartest in the world."
This latest project with the Government of Dubai builds on Nokia's existing working relationship with the city. In 2001, Nokia started to work with public safety communication networks in Dubai, and the current project will be a continuation to keep Dubai a safe and smart city for its residents and visitors.
Mansour BuOsaiba, CEO, Esharah Etisalat Security Solutions, said, "We are proud to have been appointed by Nedaa to oversee this strategic project. We are looking forward to working closely with Nokia to deploy a next-generation network for mission-critical and IoT services that will play a key role in making Dubai the safest and smartest city."
According to Amr El-Leithy, Head of Middle East and Africa, Nokia, the Government of Dubai's vision for creating the safest and smartest city in the world is far-reaching, and something Nokia is proud to be part of. "Mission-critical communications network is the foundation for realising this vision, and enables public safety and other IoT use cases," he said. "Nokia, leveraging its leadership position in 4G and pioneering work in 5G, is well-positioned to support the Government of Dubai in its vision to make the city a model for the rest of the world."