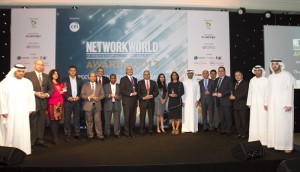 Over the years, the Network World Middle East Awards event has become a starring fixture on the region's technology calendar. As established as the ceremony is, though, no one could have predicted how much of a success last night's fourth edition would be.
Causing the Habtoor Grand's Andalus Ballroom to fill to the point of bursting, the 2013 Network World Awards saw the region's leading IT figures turn out in droves. Vendor representatives rubbed happily alongside the clients they'd served, as well as their competition, while CIOs exchanged stories and insight on the challenges and successes they'd seen over the past year.
Over the course of a five-star, three-course dinner, the hundreds-strong crowd was treated to a stellar presentation of awards, headed up by CPI's Ben Jacobs, our MC for the evening. In between exchanging ties with help AG's regional Managing Director, Stephan Berner, and being given a suitably trendy hat by the University of Wollongong in Dubai's Joseph Aninas, Jacobs announced the award winners, who were demonstrably ecstatic about having won.
For the end-user awards, the judges were looking at more than the ability to implement a decent project – there had to be some innovation involved, using existing technologies to solve a business-specific problem. Judging by the quality of the nominees, plenty had impressed, but, of course, there could be only one winner in each category.
The judges were Arun Tewary, CIO, Emirates Flight Catering, M.N. Chattuvedi, IT Director, Oasis Investment Co., Douglas Ian Wakeford, Senior Advisor, Experton Group, and Trevor Andrew Moore, CIO, Qatar University. Having received over 200 nominations, they had the work cut out for them in selecting the winners in each category.
The winners from the 2013 Network World Middle East Awards are listed below. CNME offers its congratulations to all those who walked away with a prize, as well as those who were nominated. We'd also like to thank everyone who came down to make the evening the stunning success that it was.
Of course, our photographers were our in full force. To see photos from the evening, check back on our Facebook page throughout the day. Read our full analysis of the event in the upcoming issue of CNME.
The End-User Awards
Data Centre Project of the Year – Abu Dhabi Ports Company
Virtualisation Project of the Year – Gulf Air
Collaboration Project of the Year – aeCERT
Enterprise Mobility Project of the Year – General Civil Aviation Authority
Network Security Project of the Year – Dubai Customs
Enterprise Telephony Project of the Year – twofour54
Storage Project of the Year – Commercial Bank of Dubai
Network Cabling Project of the Year – Dubai World Trade Centre
Editor's Choice Award- Tawazun
The Vendor Awards
Network Security Vendor of the Year – Fortinet
Wireless Vendor of the Year – Meru Networks
Storage vendor of the year – EMC
Enterprise Communications vendor of the year – Avaya
Structured Cabling Vendor of the Year – Nexans Cabling Solutions
Managed Services Provider of the Year (Telecom) – Ericsson
Managed Services Provider of the Year (Enterprise) – eHosting DataFort
Network Training Provider of the Year – Cnet Training
System Integrator of the Year- GBM and Visionaire  (two winners)
Networking Value-Added Distributor of the Year – Optimus
Networking Vendor of the Year – HP Middle East