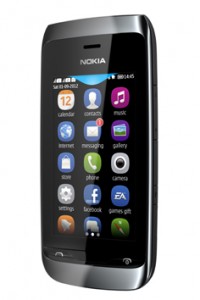 Nokia on Tuesday unveiled its Asha 310 handset, the first Nokia smartphone to combine dual SIM and Wi-Fi capabilities. Nokia said that this will help users get more out of the Internet for less.
The main SIM card is placed behind the battery, as is the case with most other phones. However, the Asha 310 features an external slot into which a secondary SIM card can be placed. It also allows users to shift between cards for either personal or work use without turning off the phone.
Asha 310 users can assign and store unique profiles for up to five SIM cards, designating one for voice, for text, or for data, switching between the cards as they see fit.
"It gives the consumers the best of both worlds, allowing them to separate work and play, or speak with friends on other mobile networks more affordably," said Timo Toikkanen, Executive Vice President of Mobile Phones, Nokia. "The addition of Wi-Fi support gives users the freedom to enjoy much more of the Internet compared to competitive devices at this price point."
Speaking of price, Nokia suggests a retail price of $102, making it, like the rest of the Asha range, an incredibly small investment for a smartphone.
For the money, users get a three-inch, scratchproof touch screen, a 2-megapixel camera and a 4GB memory card. External memory of up to 32GB can be added.
In terms of software, the 310 comes pre-loaded with Facebook, Twitter and Nokia Maps. Nokia will also throw in a free gift of 40 EA games, which are available to download individually from the Nokia Store.
Perhaps most interestingly for people looking to buy at this price point, though, is the Nokia Xpress Browser, which compresses Internet data by up to 90 percent, saving customers money, Nokia said.