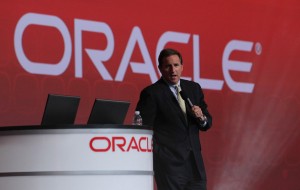 Oracle president Mark Hurd used his keynote at Oracle OpenWorld in Tokyo today to speak about the explosion of data and the critical business need to simplify IT.
With 65% of the world's enterprise data stored in Oracle databases, he said, the need for real-time business analytics ranks among the most important business challenges for C-level executives.
"Oracle offers the market's only complete, integrated business analytics solutions that enable customers to analyze and leverage information intelligence at the speed of thought," Hurd said.
"Business analytics — getting the right data to the right person at the right time to make the optimal decision is the most important thing you can get from your data. Analytics is in Oracle's DNA and is a vital part of everything we do – database, middleware, applications and engineered systems," he added.
Oracle senior VP of analytics and performance management products, Balaji Yelamanchili, outlined how organisations can leverage a comprehensive business analytics strategy to harness exploding data volumes and get intelligence into the hands of decision-makers faster and more efficiently.
"Oracle's continuous stream of technology innovation, across engineered systems, in-memory analytics, enterprise discovery, prebuilt analytic and performance management applications, advanced analytics and big data ensure our customers can leverage existing IT investments and gain increased business advantage by rapidly gaining greater levels of analytical insight," he said.
Oracle also made several further announcements at the event, including the latest release of Oracle Hyperion Enterprise Performance Management (11.1.1.2); new analytic applications for SAP – Oracle Spend and Procurement Analytics for SAP and Oracle Supply Chain and Order Management Analytics for SAP; two new Oracle Business Intelligence Applications – Oracle Manufacturing Analytics and Oracle Enterprise Asset Management (EAM) Analytics; and general availability of Oracle Endeca Information Discovery.