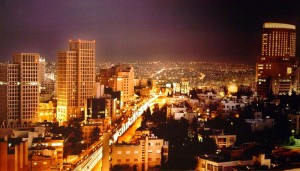 Orange Jordan, the telecom operator in the Kingdom, announced the signing of a cooperation agreement with Ericsson, a provider of telecommunications services to operators.
This step follows the selection of Ericsson to expand Orange Jordan's High Speed Packet Access (HSPA+) network that will bring 3G services to more areas in Jordan by expanding the coverage, the companies said.
The HSPA+ expansion contract follows Ericsson's successful deployment of Jordan's first 3G network with Orange in October 2009.  With this new agreement, Ericsson will provide Orange with the latest 3G technology;  HSPA+, which will allow the operator  to expand its network and cover more areas in Jordan, therefore allowing more users to benefit from the services that Orange is offering.  According to the company, tt will also help to meet growing capacity demands as a result of increased 3G subscribers to the Orange network.
"With a faster 3G network through HSPA+ evolution technology, consumers will experience higher speeds and improvements in coverage, in addition to a better user experience overall," Orange said.
"We are glad to be partnering with Ericsson once again to expand our 3G network in the Kingdom, Ericsson was one of our key success factors for the 3G services launch" Said Orange CEO Nayla Khawam. "I am sure that with this latest expansion and through our partnership with Ericsson we will be able to achieve further success together to maintain the highest quality for voice and data access for our customers, and we look forward to continuing this partnership with Ericsson."
"We are delighted to have succeeded in deploying the 3G network for Orange Jordan, and to have been awarded the expansion contract," said Tarek Saadi, president and head of Ericsson North Middle East. "We are committed to collaborate on the most optimised and tailored network evolution path with our customers, creating valuable solutions and technologies to help them achieve their potential, and we look forward to further cooperation with Orange in the future. "