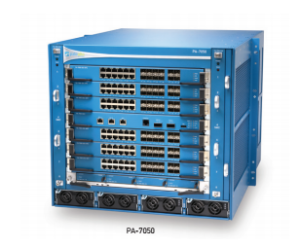 Palo Alto Networks has announced its new firewall, the PA-7050, which contains full application enablement, IPS and AV.
The PA-7050 runs PAN-OS, the operating system that is the heart of the Palo Alto Networks platform, and supports throughput speeds up to 120 Gbps for core firewall functionality.
Palo Alto says the PA-7050 is ideally suited for the data centre where validation of applications and users, and threat prevention at 100Gbps or more is critical; the Internet gateway where visibility and control over all applications and protection from known and unknown threats are critical; and Internal network segments, where isolation of critical data and business functions is required.
Customers requiring additional network capacity can add network processing cards to the PA-7050 chassis.  All traffic going through the PA-7050 is automatically balanced across the network processing modules.
"The PA-7050 allows security teams to achieve two seemingly conflicting goals," said Ercan Aydin, Director, Emerging Markets, Palo Alto Networks. "Firstly, it provides state-of-the-art security at the application level and applies scans for attacks, malware, and exploits.  Second, because it has a unique single-pass architecture designed to optimize performance, the PA-7050 can provide all of this security capability at speeds much greater than alternatives in the market; this ensures business processes run smoothly and securely for our customers."