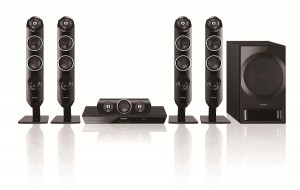 Panasonic on Sunday introduced its SC-XH330 5.1 channel DVD Home Theatre surround sound system to the Middle Eastern market.
The new model features enhanced Dynamic Bass Sound Technology and a large bass reflex subwoofer, a statement from Panasonic said. The vendor added that, compared with previous models, the bass reflex subwoofer provides around 1.5 times the volume, with the speaker unit having been increased 20 centimetres.
The size of the speaker magnet has also been doubled for the subwoofer. The size of the centre, front and rear speaker magnets has also been increased to allow for finer, faster movement of the diaphragm to produce a more powerful bass sound.
The bass reflex subwoofer is 23-percent larger in volume than the two-way three speakers. This helps the system reproduce sounds with two 6.5-cenitmetre speakers for robust bass, and a super tweeter for acoustic expression.
The elegantly curved speakers rest on adjustable stands so that they can be adjusted to suit 24-inch and 32-inch televisions. The set also features so-called Pronounced Speakers for rich sound expression.
In addition to bass sound, the XH330 alos produces high-quality images. The model features a 1080p up-conversion function that converts standard-definition images from DVD sources into high-definition ones.
Panasonic claims that the XH330 is easy to install and operate, offering a 5.1 channel front lay-out that allows speakers to be placed in front of the listening position for a surround sound impact. The system is also compatible with wall-mounted speakers. Meanwhile, the Audio Return Channel feature makes it possible to receive audio signals directly from the TV.