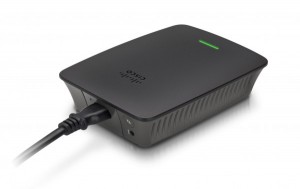 Linksys last week announced its new dual-band Wireless-N Range Extender, the RE2000, which Linksys said is ideal for extending wireless coverage in the home.
Linksys said that consumers often suffer from a lack of wireless signal in their homes due to blocking elements such as walls, or else interference from devices such as baby monitors, microwaves or DECT phones. The new RE2000 helps maximise wireless coverage and eliminates "dead spots".
The RE2000 allows for either 2.4 GHz or 5 GHz radio bands. The unit is designed to extend b/g//n Wi-Fi signals from any wireless router, whether supplied by the broadband provider or purchased in an electronics store.
The RE2000 will also provide wireless connectivity to a wired device such as a printer or smart TV through a built-in network port.
"As more mobile devices are used in the home, consumers realise greater wireless coverage is needed to cover all areas of the house," said Mohammed Meraj Hoda, Vice President, Linksys International.
"The new dual-band Wireless-N Range Extender helps consumers expand their existing wireless network to where they need it most – whether that is upstairs, in the garden or bedroom."
The RE2000 comes with a wireless set-up wizard for quick and easy installation, Linksys said. The wizard helps to find the optimal location for the extender to achieve the best coverage and performance.
Meanwhile, the Wi-Fi Protected Set-Up (WPS) button allows for quick and secure connection with any WPS-compatible router and to connect other devices to the wireless network.
Linksys said that the RE2000 comes with a recommended retail price of Dh319.