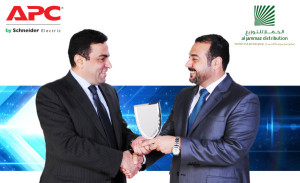 APC by Schneider Electric has awarded the KSA-based Al Jammaz Distribution as the best distributor for the country in the year 2013. Saudi Arabia has been one of the most significant markets for players across the globe.
The award was presented by Hesham Abo Rejal, Vice President, APC by Schneider Electric. Rejal said,"Al Jammaz has done a great job with us in developing the channel in Saudi, educating customers and increasing products awareness in addition to geographical coverage. We are really proud in working with such professional distributor."
Receiving the award, Adel Qahwash, General Manager, Al Jammaz Distribution said, "We have been working with APC by Schneider Electric for the last eight years and have provided continuous growth in the Saudi IT market. We attribute this award to our hard work and creativity, which is why we are distinguished and successful today."
Al Jammaz has been awarded this year with many awards for its value-added distribution.