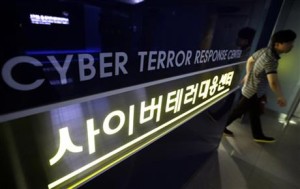 A noisy malware campaign against South Korea is revealing deeper secrets.
A new report from security vendor McAfee into the March 20 "Dark Seoul" attacks, which wiped data from bank computers, shut down ATMs and crippled government websites, describes a much less conspicuous parallel operation designed to steal classified military data.
McAfee's report asserts that "the attacks on South Korean targets were actually the conclusion of a covert espionage campaign".
Two groups, the Who is Hacking Team and the New Romanic Cyber Army Team, were thought to be behind the March 20 attacks. But McAfee now suspects both teams are part of the same group due to similarities in the attack code used.
An analysis of malware used by the group suggests it has been running a spying operation against South Korean targets since 2009, according to McAfee's report. The prominent attacks against websites and banks earlier this year may have been intended as a distraction.
McAfee named the military component of the group's activity "Operation Troy" due to the use of the word "Troy" in compiled versions of malware.
The hackers sought to compromise military computers by luring victims to a military-focused social networking website, where their computers would be attacked or by sending potential targets spear-phishing emails.
When the malware has successfully infected a computer, the program scans the hard drive, hunting around for interesting files. Since large-scale data theft can often raise alarms, this malware was more picky.
"The malware does not extract every document that is found as a match through drive scanning; rather it assigns a unique signature to the infected system according to what it contains," McAfee wrote. "Less interesting systems are less likely to have documents extracted from them."
The malware looks for military unit names, programmes and other military keywords. It searched for those keywords, which includes "operation," "secret" and "OPLAN", in English and Korean. If an interesting file is downloaded, the attackers' program sends it over an encrypted http channel.
The malware used in the military attacks could also be used to wreck the systems, the report said.
"The espionage malware has the capability to destroy systems in the same way that the March 20, 2013, attacks disabled thousands of systems in South Korea," McAfee wrote. "This capability could be devastating if military networks were to be suddenly wiped after an adversary had gathered intelligence."