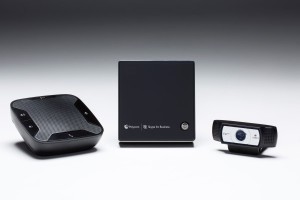 Polycom and Microsoft have partnered to deliver a new series of video collaboration solutions purpose-built for Skype for Business.
The first device in the new offering is the Polycom RoundTable 100, a video solution for huddle rooms that will allow small to midsized businesses (SMB) and teams with Skype for Business and Microsoft Lync 2013 to experience voice, video and content collaboration by logging into their Skype for Business account.
The companies also announced that the Polycom CX series of video collaboration solutions, including the CX8000 room system, and the CX5100 and CX5500 unified conferencing systems, also will become part of the RoundTable series of products.
"Together, Microsoft and Polycom have a joint vision to deliver collaboration experiences that help our customers defy distance," said Peter Leav, President and CEO, Polycom. "We are now expanding our solutions to allow SMBs, as well as large enterprises, to reap the benefits of video collaboration. Our partnership with Microsoft has never been stronger, and over the years, it has fortified a market demand for collaboration experiences that help make our customers successful."
"Collaboration is the cornerstone of productivity, and people need tools that work the way they do – across locations and devices," said Zig Serafin, Corporate Vice President, Skype Business Services Group, Microsoft. "Throughout our long-standing partnership with Polycom, we've shared a goal of delivering collaboration experiences that transform the way people work. The RoundTable 100 serves as another important step in helping businesses of all sizes to realise that goal."