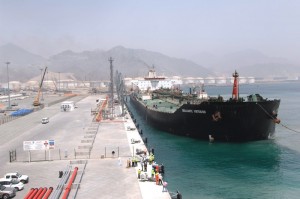 The Port of Fujairah, the multipurpose port located on the Eastern seaboard of the UAE, has rolled out Oracle E-Business Suite R12 and Oracle Business Intelligence Standard Edition to optimally integrate its financial processes with broader business functionality, and support growth.
The vast range of services provided by Port of Fujairah includes general cargo (including project cargoes), bulk cargo (including aggregate exports), wet bulk cargo (including fuel, oil etc. for bunkering and trading), port facilities for small supply craft users and agents, container activity (provided by Dubai ports under a concession agreement with the port) and other port services.
The port operates with a continuing process of enhancing its facilities and comprehensive range of functions. It offers complete facilities for a wide range of requirements, such as general, bulk and wet cargo, including oil.
The Port of Fujairah looked to Oracle solutions to support the integration of its financial processes and lay down IT foundations for fast growth. It particularly needed to enable transparent business-wide reporting and planning, vital for a business success in the competitive travel and transportation sector.
"Oracle E-Business Suite Release 12 enabled us to improve resource transparency, planning, reporting, integration, and scalability as demanded by a sophisticated and continually expanding multipurpose sea port," said Madhusudhan Sarangi, IT Manager at Port of Fujairah.
"We deployed it in collaboration with Oracle Partners Fujitsu and Computer Network Systems, and later upgraded to Release 12.1 using in-house staff," he added.
Oracle worked with partners to implement Oracle E-Business Suite Release 12, fully integrating Oracle Financials with Oracle Inventory Management, Oracle Purchasing, and Oracle Human Resources.
It also supplied Oracle Business Intelligence Standard Edition and Oracle Discoverer for business activity analysis and reporting to all levels of the organisation, supporting decision-making in the regional transport marketplace.
The selected Oracle applications and technology were successfully implemented in seven months, delivering inherent scalability to support the level of expansion possible at the international port, with technology built for growth in volume and functionality.
The selected Oracle solutions were implemented by Oracle partners Fujitsu and systems integrator Computer Network Systems (CNS). A robust local presence of Oracle, Fujitsu, and CNS expertise now provides a level of support for regular maintenance and upgrades that had been absent with legacy systems.
"The innovative idea behind the Oracle E-Business Suite is to provide organisations of all sizes with an unprecedented single integrated computer-based application across all functional areas to optimise visibility, operational efficiency, control of information and decision-making processes, and drive sustainable growth," said Abdul Rahman Al Thehaiban, VP at Oracle MEA.
"We are proud that Port of Fujairah chose Oracle E-Business Suite solutions to modernise its HR and financial processes and maximise its overall quality service with a view to achieving its strategic objectives and securing upgrades for the legacy system," he added.