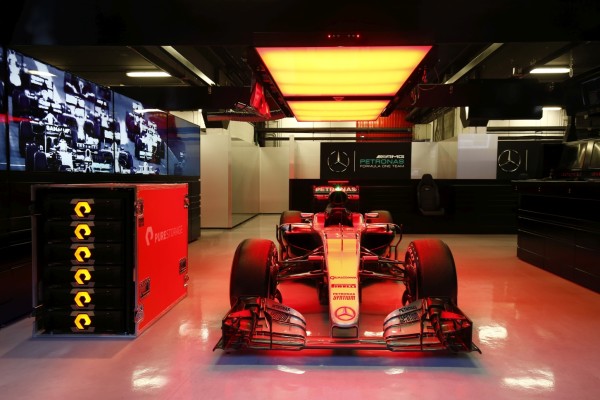 Pure Storage recently announced a global partnership with the MERCEDES AMG PETRONAS Formula One.
With Pure Storage, the team aims to accelerate the analysis of its data-centric transactions that impact car performance and lap time, and is raising the bar for mission-critical business applications that underpin the entire organisation.
"We're delighted to welcome Pure Storage as a partner of the MERCEDES AMG PETRONAS Formula One Team," said Toto Wolff, Head of Mercedes-Benz Motorsport. "Technology is fundamental to our success – it enables us to perform across our business and ultimately on track. As we are predicting one of the most challenging and competitive seasons in the year ahead, Pure will give us the power we need to tackle our most demanding data challenges."
Today, MERCEDES AMG PETRONAS runs two FlashArray//m70 arrays and four FlashArray//m20 arrays in three pairs, with no single instance anywhere, while leveraging FlashStack CI, Pure's flexible, all-flash converged infrastructure solution. The workloads running on FlashArray//m70 were initially deployed on FlashArray 450s, until MERCEDES AMG PETRONAS leveraged Evergreen Storage to add 40TB of capacity during normal production and business hours without disruption.
"Pure and The MERCEDES AMG PETRONAS Formula One Team found common ground in a mutual everyday mission – to push the boundaries of what's possible," said Jonathan Martin, CMO, Pure Storage. "When fractions of seconds mean the difference between success and second best, the reliability, simplicity and speed Pure Storage delivers is paramount. Pure is proud to provide MERCEDES AMG PETRONAS confidence in the performance of its storage platform, so that the team's primary focus can be performance where it matters most – on the track."
"Before Pure, we virtualised storage to the point where we could introduce whatever vendor was right at the time. We soon realisd that building a nuanced architecture on an intricate stack translated into building something far too complex – complexity on top of complexity," said Matt Harris, Head of IT, MERCEDES AMG PETRONAS Formula One Team. "The choice was clear once we realised we could eliminate bulky, heavy hardware, improve our performance and actually save money taking the technology with us around the world."
Everything about The MERCEDES AMG PETRONAS Formula One Team is measured in fractions of seconds. According to the team, they chose Pure Storage to be able to drive meaningful results including:
Boosts to productivity leading to an accelerated kick-off of a business-critical project initially slated for 2017
Immediate time to value by getting the Pure Storage FlashArrays up and running in four hours as opposed to the 6-8 weeks required by previous vendors
35 percent faster race-related transactions, such as opening race car telemetry files
Reduced times for backend application processing such as a 95 percent reduction in SQL query processing times
Reductions in cost, power and space by replacing 40TB and 26U with 88TB and 6U of Pure systems, resulting in significant logistical savings as the team sets up temporary and remote operations in 21 locations worldwide
The ability to deliver services quicker, for instance enabling IT to stand up 60 or 70 virtual machines a day versus one or two machines prior to implementing Pure Storage
"Pure Storage's Evergreen business model removed the anxiety of the traditional storage renewal. It's a brilliant example of the simplicity you get with Pure and it changes the board-level conversation when trying to propose a new platform," said Harris. "The typical concerns about future issues – capacity, upgrades, maintenance and how much it will all cost us again – are no longer an issue. We were able to immediately focus on getting the technology in the door and impacting the business as quickly as possible."