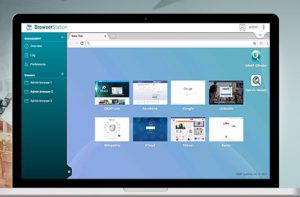 QNAP Systems has officially released Browser Station, an app that helps users avoid geographic restrictions and complex VPN settings when remotely accessing data on the same LAN as the QNAP NAS. According to the firm, abundant user feedback has been collected since the beta version of Browser Station was released, and the official version includes many optimisations from the user interface to usage experience, providing a convenient and safe way to browse the web and access protected data.
"We appreciate the valuable feedback from users that helped us to improve services to fit user requirements," said Christine Wang, product manager, QNAP. "We also received many positive responses from users who travel frequently, and it is great to hear that Browser Station helps them to conveniently browse the web and access remote data."
In Browser Station, useful webpage shortcuts are provided on newly-opened browsers for one-click access. Browser Station works with HTTP or SSL connections. Besides supporting encrypted access with VPN protection, Browser Station can bypass IP blocking to enable users to remotely access restricted data, such as their company's private servers.
Other features of Browser Station include that users can specify a NAS shared folder for downloading files (including email attachments and from web sites); the current status of browsers is retained, including open tabs, bookmarks, browsing history, and more.
Browser Station is available from the QTS App Centre.
The system requirements are QNAP NAS with at least 4GB RAM and QTS 4.2.2 (or later) and container station v1.7.2224 (or later) must be installed and enabled to use Browser Station.