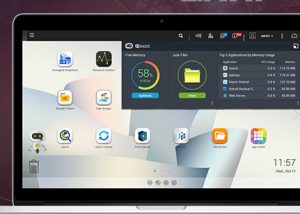 QNAP Systems has released the QTS 4.3.4 beta for ARM-based QNAP NAS. As data security is a fundamentally essential requirement for NAS, QNAP makes snapshots a standard feature to help mitigate the growing threat of ransomware. QNAP has been working alongside AnnapurnaLabs, an Amazon company, and from QTS 4.3.4, QNAP NAS with AnnapurnaLabs processors can support snapshots with only 1GB RAM, making snapshot protection more accessible to users of entry-level NAS. QTS 4.3.4 for x86-based NAS and other ARM-based NAS models will be released soon with comprehensive and accessible snapshot protection.
QNAP continues to explore the potential of the ext4 file system, empowering QNAP NAS with high performance and outstanding snapshots manageability. Users can also set snapshot reservation space to ensure enough dedicated space for saving snapshots.
The new QTS 4.3.4 smart NAS operating system is reinforced with a focus on the "essence of storage". Additional major features and improvements include the brand-new Storage & Snapshots Manager, global SSD cache technology, the ability for File Station to browse snapshot content and to directly access files on mobile phones, comprehensive file management solutions, GPU-accelerated computing, support for 360-degree photos and videos, multi-zone multimedia control, VLC media player streaming, and much more.
"Every aspect of QTS 4.3.4 was built on the foundation of comprehensive feedback and communication from business, individual and home users. We believe that our objective of developing QTS as 'designed from user experience' delivers a complete NAS operating system with the most professional storage services available," said Tony Lu, product manager, QNAP. "Whether you are an existing or new QNAP NAS user, we are confident that you will feel the remarkable additions and improvements throughout QTS 4.3.4."
The QTS 4.3.4 beta is now available from the Download Center for the following ARM-based NAS models: TS-1635, TS-831X, TS-531X, TS-431X, TS-431X2, TS-1231XU, TS-1231XU-RP, TS-831XU, TS-831XU-RP, TS-431XU, TS-431XU-RP, TS-431XeU, TS-431U, TS-131, TS-231, TS-431, TS-231+, TS-431+, TS-431P2, TS-231P2, TS-431P, TS-231P, TS-131P
According to the firm, Qtier and GPU support are not available on ARM-based NAS models.
The availability of QTS 4.3.4 for x86-based NAS models is expected to be announced soon.