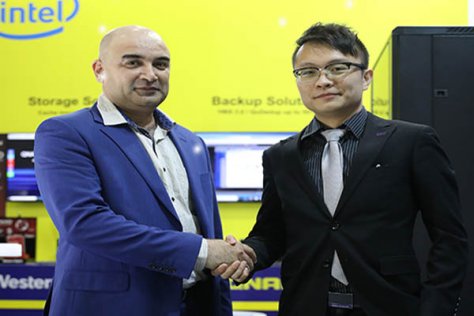 QNAP systems is demonstrating its newly released QTS 4.4.1 operating system at this year's GITEX.
The company is also showcasing a variety of Intel-based NAS along with Seagate or WD hard drives to enhance business workflows, including 10GbE-ready NAS, iSER support, and virtualization solutions.
QNAP offers quality NAS products for home and business users, providing solutions for storage, backup/snapshot, virtualization, teamwork, multimedia, and more. QNAP envisions NAS as being more than "simple storage" and has created many NAS-based innovations to encourage users to host and develop Internet of Things, artificial intelligence, and machine learning solutions on their QNAP NAS.
Bilal Abid, a QNAP end-customer, said, ''I found that QNAP is the best home NAS for most people after testing the network-attached storage (NAS) of QNAP and comparing it with its competitors, particularly Synology. With respect to usability, QNAP comes with a very user-friendly code. My experience with QNAP was great as a personal home-based client. I started using lots of features that my colleagues didn't even know about, so I produced a comprehensive report that collected features to share with my friends and colleagues how great QNAP is.''
QNAP's QTS 4.4.1 has added Fibre Channel support on QNAP NAS. A QNAP NAS with Fibre Channel connectivity can be easily added to an existing NAS environment to leverage many benefits, including snapshot protection, Qtier tiering storage, SSD cache acceleration and more, said the firm.
"I'm very passionate about my job from an IT perspective. I gave my honest feedback and suggestions when QTS 4.4.1 was released, and the team at QNAP were very supportive. The company also looks after the customers and respects their reviews. I can, therefore, proudly say that I belong to the QNAP family. QNAP helps me to store my data and access it globally whenever I want," Abid added.
QNAP Systems provides a comprehensive range of cutting-edge Network-attached Storage (NAS) and video surveillance solutions based on the principles of usability, high security, and flexible scalability.