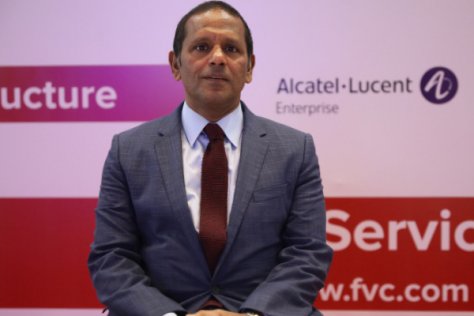 K.S. Parag, Managing Director at FVC, has reiterated that its mission statement is to help its partners and customers achieve their digital transformation goals.
Parag was speaking to 60 Minutes Live on Day 5 of what has been a very successful GITEX Technology Week for one of the leading value-added distributors in the Middle East.
In a brilliant interview, Farag discussed why it remains focused on digital transformation, whilst also highlighting the role it is playing in the unified collaboration space, meeting rooms and security.
Parag stated that their initial mission statement on digital transformation remains true.
He said, "The commitment and statement we initially gave to both our partners and our customers was that we wanted to be their go-to partner for digital transformation – and this message remains the same today – and is something we have reinforced at this year's GITEX Technology Week when meeting with both our customers and partners this week."
Parag explained that part of their responsibility is to help educate their partners and customers to establish what sort of digital transformation journey they need to embark upon.
He added, "I believe we took a very strong position in connecting with a lot of our partners and customers in terms of making them understand what type of digital transformation journey is really required for them. Digital transformation is such a large, vast journey – and we try to not only educate them but connect them with partners to undergo training in a bid to try and make them understand that this is what they should be talking to their customers about."
In terms of the unified collaboration space, FVC is playing a key role in addressing the pain points being experienced by companies in this market.
Parag said, "In the area of the unified collaboration space we're playing a crucial role. We've seen in this market that the whole journey has shifted into the meeting room, which is much less static and requires more dynamism. The demand in the meeting room space particularly is centered on how they can simplify things. We've seen in meeting rooms, especially when you're looking at collaboration outside the meeting room companies like Zoom, WebEx and BlueJeans coming to the market. We've helped simplify the process for companies and have seamlessly enabled the end-customers to integrate with any of these solutions to enhance their experiences."
Parag also outlined how FVC has also simplified the meeting room space and provided seamless experiences.
He said, "In the meeting room itself we've made it much simpler, by allowing you to bring in any content into that meeting room from your mobile phone, tablet or PC. The objective for us is how can we seamlessly connect and have an interactive collaboration with distance space whilst at the same time being able to get more information from the cloud to bring a much more meaningful experience in that discussion? However, this is something we've been able to deliver which has ensured seamless experiences for our customers."
Parag concluded the interview by briefly touching on its investments in networking and security.
Parag said, "In terms of networking we've witnessed a big shift into SD-WAN technology – and on the security side of things I think we've taken a big forward step in terms of helping customers understanding how they secure themselves in a much more effective way. We're ahead of the game in terms of security, and we're now doing security on both a binary and chip level."