Dimitris Raekos, General Manager at ESET – Middle East, spoke to 60 Minutes at GITEX Technology Week about some of its new solutions including the ESET Enterprise Inspector, what gives the company a competitive edge in the cybersecurity marketplace and the importance of understanding data.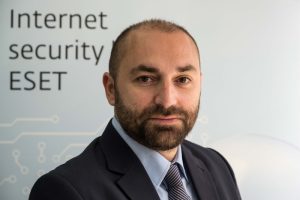 ESET is a leading cybersecurity vendor established in Europe and has been the market incumbent in that space for the last 30 years. ESET provides solutions for end-point protection, two-factor authentication and encryption.
Raekos highlighted its latest solution which will empower organisation to detect and trace malicious attacks on their networks.
He said, "We've recently launched a product called ESET Enterprise Inspector which is a very effective solution for large enterprises as it enables them to have much better visibility on what is happening on their end-points. In addition to this, they will also be able to track and detect advanced threats and target attacks and will be able to trace where the attack is coming from the network."
The GM of ESET's Middle East operations also disclosed that the cybersecurity leader is launching new solutions next month.
Raekos said, "On November 12th we're launching more new products and many of our existing customers and prospective customers will be able to see our new management console which will have a number of additional features which will greatly enhance the services the product can offer our customers – and we're very excited about this new range of cybersecurity solutions."
The sophistication of cyberattacks are increasing and supply chain attacks are on the rise. However, according to Raekos data breaches are the most dangerous method of cyber attack in the industry.
He added, "Data security needs to be a key focus for every enterprise. Data breaches can have devastating consequences for enterprises and can be very costly. ESET created a book called Data Protection for Dummies and through this book customers can download it and read to better understand how they can better protect their data inside their organisation. We're also projecting that in the Middle East there will be additional legislation created around data protection so it's going to be very important for every company to be prepared."
When asked what differentiates ESET from other vendors in what is becoming an increasingly competitive market – Raekos pointed to its expertise in Machine Learning and legacy of 30 years in the cybersecurity market.
He concluded by saying, "There are so many vendors in the end-point protection and it's such a competitive market. When I started with ESET 15 years there was about four or five vendors, but now it is really a saturated space. We've been around for over 30 years which gives us a competitive advantage but what also gives us an edge is when we talk about Machine Learning. Machine Learning in order to be effective requires Big Data, and we have 30 years of classified data which means we can provide much better when it comes to Machine Learning and accuracy."