Poly, the new company born from the union of Plantronics and Polycom, is showcasing its innovative solutions at GITEX 2019 hoping to leave a mark with their new branding.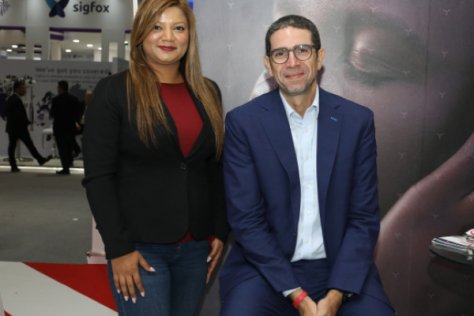 Poly was born back in March when Plantronics and Polycom, merged in March 2018, decided to adopt a new identity.
Sonal Bisht, Head of Corporate Communications, EMEA, and Ahmed Sousa, Regional Manager, Solutions Architects, MEA, Turkey and Russia, at Poly, discussed the company's presence at GITEX and what differentiates them from their competitors.
"We have a new name, but we still carry the same great heritage from Plantronics and Polycom. We have doubled manpower; we have doubled our customers base, and we are excited to be at our own stand this year at GITEX. Our main mission is to introduce our new branding and showcase our end-to-end solutions from Plantronics and Polycom.
"Not many people know that Neil Armstrong actually used a Plantronics headset to communicate from the moon – that's just how rich our heritage is. Innovation is in our DNA and we are not going to stop innovating," said Bisht.
Discussing what makes their solutions unique, Sousa explained Poly's customer-centric approach is the key to their success.
"We are able to take the customers into a collaboration journey, from a personal level all the way to the boardroom. We want to give customers a similar experience when they move from one space to the other, no matter where they are working from. Customer experience is key – it obviously needs to be the best, and to achieve this it needs to be consistent. Ease of use is very important to us.
"We are also focusing on delivering a continuous workflow – customers can access a call from any platform. Our Plantronics Elara 60 Series, the mobile phone station designed for the increasingly mobile-first worker, provides users with a one-touch call approach, so there is no disruption whatsoever," said Sousa.
Sousa believes that although technology is at the core of what Poly does, the best strategy is to hide it as much as possible from the users to make them feel comfortable when using it.
"When people see a camera they get nervous, or sometimes you have multiple people in a conference and you have to keep moving the camera to show the right person – at Poly we believe technology needs to be simple, which is why our camera range has a camera tracking system to focus on the right person at the right moment. It's small things, but they make a huge difference to our customers and that differentiate us in the market.
"Customer-centricity is at the core of what we do. For us good enough is just not enough – to really be productive, organisations need the right solutions, in the right place, at the right time. Poly provides that," continued Sousa.
Poly's solutions, explained Sousa, are also compatible with various different Unified Communications (UC) platforms. This allows customers to use Poly technology on any platform they chose, whether on premise, on cloud or hybrid.