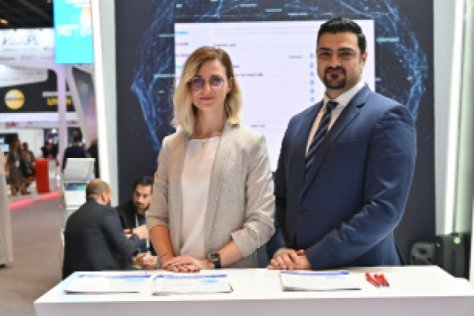 The range of cyber threats facing organisations in the Middle East is developing fast – but the cybersecurity company Bitdefender has multiple solutions to protect against these myriad attack vectors.
Among the company's experts monitoring the region's threat landscape is Cristina Vatamanu, a senior team leader in Bitdefender's Cyber-Threat Intelligence Labs in Bucharest, Romania.
"There is a tendency of advanced persistent threats to be high in the Middle East. The number of threat groups is considerable. They're targeting industries that bring in a lot of money, including oil and gas and financial institutions," she said.
"They are targeting critical infrastructure, like telecoms, transport and aerospace and government structures, which can be correlated with geopolitical conflicts in the area."
Within the threat landscape, crimeware has become more of an issue, according to Vatamanu, and potentially unwanted applications (PUAs) are more common in the Middle East than in other regions. PUAs are not malicious per se, but could be used to gather data that could be used in targeted aggressive advertising.
Amid the wide range of threats, and the digital transformation that many companies are undergoing, it is no surprise that the cybersecurity market in the region is growing.
Tarek Kuzbari, Bitdefender's regional director Middle East, predicts that, in total, the cybersecurity market in the Middle East, Turkey and Africa will be wroth about $2.7 billion this year, up around 10 percent from 2018.
The solutions that Bitdefender offers within this marketplace are, says Kuzbari, "industry agnostic" as they can be used across a whole swathe of sectors.
"If we look at the endpoint side, we see about 22 percent of attacks start from the endpoint. We provide a superior product with 30 layers of protection," he said.
Kuzbari says that Bitdefender's solutions also take in other key functions such as patch management and full disk encryption.
Network traffic monitoring is also important. Bitdefender's technology can analyse traffic and, with machine learning, provide insights into what is happening.
The company's threat intelligence is also a strong point, since Bitdefender can bring together information from 500 million devices around the world.
"This provides us with information about the type of attacks and we share this information with our clients. We provide the information within our product, and the customer can buy it as additional information," said Kuzbari.
Another aspect of Bitdefender's protection is its sandbox technology, which Kuzbari says is especially effective in the grey area between files that are totally clean and those that are unambiguously malicious.
"The sandbox runs a simulation to understand what the file is doing, what effects it's trying to do on the system. Based on this the security team can decide to allow this file or block it and remove it," he said.