Her Majesty Queen Rania Al Abdullah has highlighted the need to re-evaluate motives behind acquiring technology, in a bid to alleviate the suffering of refugees and others combatting "illness, poverty, ignorance and exclusion" in the Arab world.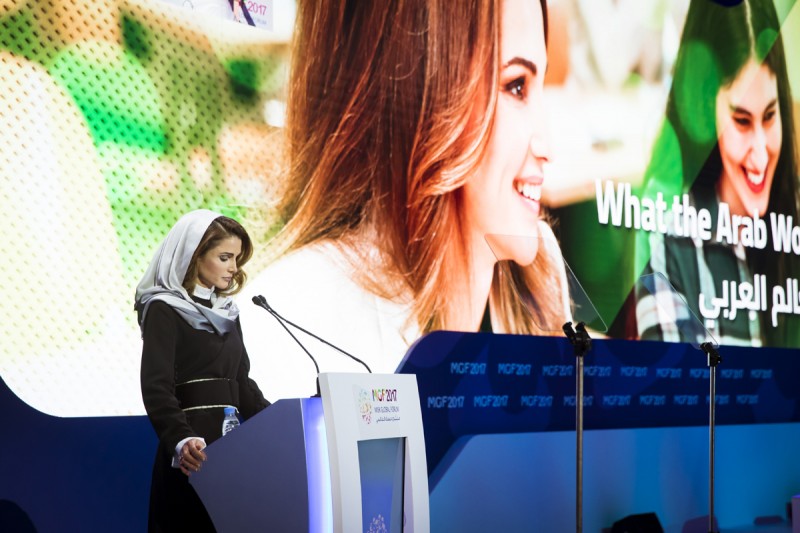 Her Majesty made her remarks at the Misk Global Forum (MGF) held in the Saudi capital, Riyadh, an event which brought together senior Saudi officials, young entrepreneurs, and global innovators to explore its 2017 theme, dubbed, 'Meeting the Challenge of Change.'
Other top speakers were Microsoft's co-founder Bill Gates, Jonas Kjellberg, co-creator of Skype, and Allen Blue, co-founder of LinkedIn.
In her speech, she highlighted the "hope gap" impacting the dispriviliged, both within the Arab region and the world at large.
According to the Queen, a third of the Arab population is directly affected by conflict, and "millions of others have been driven from their homelands." Meanwhile, 13 million Arab children are out of school, and the region has one of the highest unemployment rates in the world today.
The Queen also noted innovation and technological advances alone have not eased this suffering, commenting, "Rather than a race to the top for the privileged few, our priority should be employing technology to empower entire societies," she said.
"Is it not a paradox for us to become disconnected from our most critical humanitarian ideals in the age of connectivity? And for us to turn our backs on, and even fight, diversity instead of building tolerant and safe societies?" she asked.
"What we need is technology with a heart – one that beats for us. We need technology that is not measured in bits and bytes, but by its ability to close the gaps that stand between us and the self- realisation of our people," Her Majesty added.
Queen Rania went on to call for the adoption of technologies "that add value to our lives and keep hope alive in our Arab youth," deeming them the region's source of pride.
"Let us broaden their horizons, and provide them with opportunities to realise their potential and achieve their ambitions," she concluded.
An announcement was also made at Misk Global Forum revealing that Saudi Arabia is encouraging the world's entrepreneurs and inventors to start up in the Kingdom, with the introduction of new entrepreneurship licenses aimed at encouraging growth in the small and medium-sized enterprise (SME) sector.