In line with Vision 2030, which entails tech-led overhaul of the economy, Saudi Arabia is encouraging the world's entrepreneurs and inventors to start up in the Kingdom, with the introduction of new entrepreneurship licenses aimed at encouraging growth in the small and medium-sized enterprise (SME) sector.
The new licenses, which will allow overseas entrepreneurs to establish a business in Saudi Arabia for the first time, were announced yesterday at the Misk Global Forum annual gathering in Riyadh by Monsha'at, Saudi Arabia's SME authority, the Saudi Arabia General Investment Authority (SAGIA), King Abdullah Economic City (KAEC) and the Economic Cities Authority (ECA).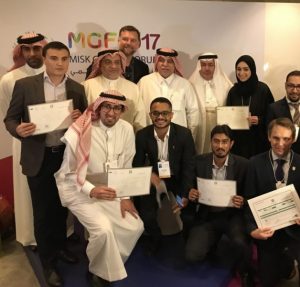 "The new licensing initiative is designed to help build up the private sector, particularly SMEs, and move away from an over-reliance on oil revenues," said Dr. Ghassan Ahmed Al Sulaiman, Governor of Monsha'at.
"This initiative, inspired by Vision 2030, will help Saudi Arabia attract the best minds in the world, transferring knowledge, expanding the economy, increasing the contribution of small- and medium-sized companiesto GDP and creating jobs for Saudis. We launched this at the Misk Global Forum's annual gathering because it's a global event bringing young leaders and established innovators together to focus on innovation and the knowledge economy," he added.
CNN has reported that the first 11 entrepreneur licenses for startups were awarded on Wednesday at the Misk Global Forum. The entrepreneur licenses will be issued by Saudi Arabia's General Investment Authority or any one of several economic zones, which offer huge incentives such as free rent and transportation and subsidised housing.
Saudi Gazette has quoted the Minister of Communications and IT, Abdullah Al-Swaha as saying," Today our role, with the support and directives of Crown Prince Muhammad Bin Salman, is to provide you the environment, the infrastructure, and culture to go forward."  The ministry has announced that it has signed a partnership with Misk Foundation and
The ministry announced that it signed a partnership with Misk Foundation and Mohammed Bin Salman College for Business and Entrepreneurship to adopt the top 30 local entrepreneurial ventures to "a rigorous program exposed to accelerators and joined with big powerhouses to set them up for success."
It may be recalled that Saudi Arabia is one the biggest investors in the $100-billion tech fund created by Japan-based SoftBank, which has announced yesterday plans to invest $25 billion in the Kingdom over the next three to four years (see article)