Zain Bahrain and K Hotel, operated by the Gulf Hotels Group, have signed an enterprise partnership for full connectivity solutions to serve the hotel and all its operations, including 237 guest rooms and suites, with high-speed Internet.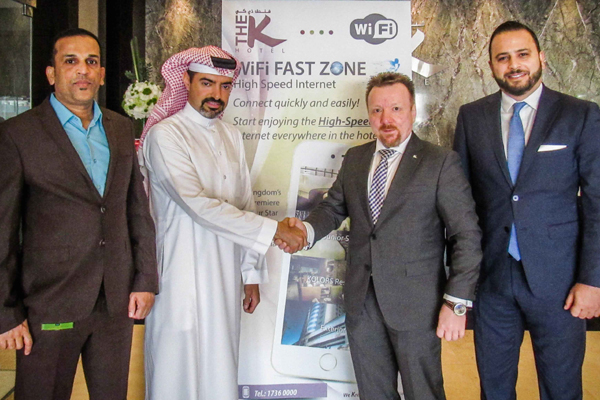 The partnership was signed by Shaikh Abdulla bin Khalid Al Khalifa, Zain Bahrain director of corporate communications & investor relations; Yazan Zaytoon, Zain Bahrain corporate sales manager, and the K Hotel general manager Volker Mandlowsky at the hotel's premises in Juffair.
"We are happy to be signing this important partnership with a key member of the Gulf Hotels Group, which has been an important enterprise client of ours for many years," said Shaikh Abdulla.
"This signing is one of a series of enterprise solutions agreements we are undertaking as we are committed to providing full business solutions to companies and organizations across all sectors in the Kingdom of Bahrain," added Zaytoon.
Mandlowsky said: "We are happy to be able to offer our business and leisure travellers seamless high-speed Internet access through Zain Bahrain's outstanding network and customer service. This agreement also affirms our commitment to utilising and delivering the highest quality services available in the market."
Earlier this week, Oman Telecommunications (Omantel) announced it has won the bid to acquire 12.1% of the issued share capital in Mobile Telecommunications Company KSCP (Zain), making Omantel the second largest shareholder in Zain Group with a 21.9% stake.