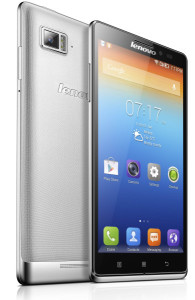 The screen is the first thing you notice and like many of Lenovo's recent launches – the Vibe Z comes in a sleek and thin design. Sporting a 1920×1080 display, with 401ppi does make viewing videos and playing games quite enjoyable on its 5.5-inch screen. The device is available in two-color options – silver and titanium, and uses a polycarbonate plastic shell for its back cover. Its svelte design offers utmost comfort to handle, even when on the move.
Powered by a Snapdragon 800 chip and 2 GB of RAM, the device handles the heavily customised OS very well, even though it comes preinstalled with a lot of 'bloat-ware' that users may or may not find useful. The good news is you can uninstall what you don't want easily, unlike some other brands. The other positive feature is its battery – a 3000mAh battery that easily takes you through the day. Even when paired to a smart watch all day, it still had enough juice left for a few more hours.
The front facing 5MP camera works well but the 13MP rear camera is what users will fall in love with. It is capable of taking crisp pictures under standard conditions. The camera alone can be the reason to purchase it. The Vibe Z also offers a host of filters that can be added while taking a picture, covering the standard array of lenses such as fish-eye and also color effects.
The device falls in the recently created, yet ever expanding 'phablet' market running on Android 4.3 Jelly Bean with a highly customised Lenovo skin. Perhaps, this is where Lenovo could have done better. The skins are preinstalled, have a look similar to Apple and come in various designs. One can also add different aspects of each of these skins, creating a more personalised experience. In the first glance, the preinstalled skins do seem like perky additions, however, it is not something users who wish for a mature experience will be looking for. That being said, it is also something that could grow on the user.
All in all, Vibe Z is a fine device and at the current price point does give the S5 a fair bit of competition. However, it requires a bit of ironing out, especially with the skins that Lenovo has added on. Being an Android device, Lenovo should have designed it around an App Drawer simultaneously keeping the perky design philosophy that most of the preinstalled skins seem to have. With this done, it could truly be the company's flagship product.
Vibe Z is apt for those users who are looking for a capable device without compromising on style and design.