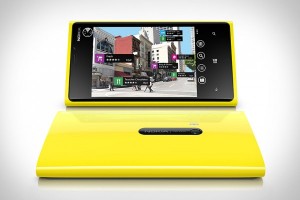 A lot has been said about Nokia in recent months – a great performance, by all accounts, in the last two quarters, showing strong growth on its recently self-proclaimed flagship device; the Lumia 920.
So, is this model worthy of such results?
I'm an instinctive character, therefore, when I first pick up a new smartphone I immediately judge it based on my instincts. Unfortunately for vendors, my instincts are often sceptical at best. However, when I first picked up the Lumia 920 I was rather giddy. The reason for this is the fact that it was bright yellow. Now, I wouldn't necessarily go into a store and order anything in yellow bar a bar of soap, perhaps, but because this wasn't a dull black, white or grey, I was interested.
Nokia was well known for its multi-coloured devices back in the 90s and to have a little taste of that in the smartphone era was delightful. Having said that, for the Victor Meldrews among us, it does come in white, black, grey and red as well.
Still going on instinct, the other noticeable thing is that it's a weighty device, like holding a puppy, you comment on its cute face and then wave it up and down by a few inches saying "heavy, isn't it."
But this is of no concern, because unlike a few other devices on the market, the Lumia is as solid as you like. Another well-known characteristic of Nokia. It shows three external buttons only, and three permanent touch-screen function buttons – otherwise, it's as bald as Michael Stipe, which I also like.
The Lumia is of course the birth child of the partnership between Nokia and Microsoft, and so the OS is Windows 8. Though enterprise hasn't taken to this as well as hoped, the best of us know that this was designed with touch devices in mind and it's demonstrated with this model. Windows 8's tile-style lay-out is very responsive, very smart, very intuitive and fairly nice to look at too. On top of that, you've got the Windows app store which, personally, pushes this phone as a consumer device above the BlackBerry models in the pecking order, due to the availability of apps.
Tom Farrell, VP for Nokia MENA, recently said that the smartphone of today is all about the eco-system – the ability to create a device which can be your go-to tool for anything short of a medical emergency. Nokia has taken its own advice; the Nokia City Lens app allows you to view the screen as a camera while the navigation highlights places of interest, by category (restaurants, hotels, garden centres – for the Meldrew's again), and then walks you through step-by-step directions until you've arrived. I actually used this to great effect in Sri Lanka a short while ago – I was hopelessly wandering around Colombo searching for the famous Gangaramaya Temple, without luck. I then happened to stumble across a Coffee Bean with free Wi-Fi and opened up my Nokia City Lens app. It told me how far away the temple was, how to get to it, what the tourist rating for the attraction was, what other similar or equally as interesting attractions were nearby, and it even offered me a few photos.
Camera characteristics
A first, that Nokia can boast, for the Lumia, is a stabilised lens on the camera. The lens floats within the camera, allowing the user to be as shaky as Elvis during a jail house rock, while still producing clear photos. A feature I've tested no end. Moreover, the 8MP camera has a host of downloadable lenses to go with it, for free, which all add to the fun. The Smart Shoot Lens allows users to take multi pictures of a group and then individually select the best face for each person from any of the photos and blend them into one picture. This can cause some odd looking necks, but it shouldn't be a problem if the group is fairly placid.
Sadly, to say
One key issue I have come across with this model, however, is the social apps are a little bit tricky to navigate. Posting Tweets or uploading photos to Facebook is fairly laborious – something which is seamless on the iPhone or S series Samsung models, for example.
Verdict: 8.5/10
For the consumer, the Lumia 920 is a great device. It's rock solid, attractive, has plenty of good apps, as well as a toy box full of built-in features. It's one of those devices which can be instantly likeable from the pick-up. Unfortunately, the social apps aren't brilliantly polished.
Key specs
Camera: 8MP, 3264×2448 pixels, Carl Zeiss optics, optical image stabilisation.
Dimensions: 130.3×70.8×10.7 mm
Weight: 185g
Memory: card slot – No, internal storage – 32GB, 1GB RAM
Battery: Non-removable Li-Ion 2000 mAh battery
Stand-by: Up to 400h (3G), talk time: Up to 10h (3G)
Price range: Dh1,300 – Dh2,300