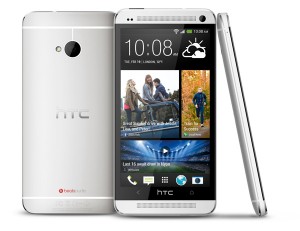 HTC has come out fighting with its new One. Completely redesigned, it features an aluminium case, 4G connectivity and an updated version of the Sense platform.
The market has reacted well – some retailers say that they can't keep enough HTC Ones in stock to satisfy customer demand.
But it's a hugely competitive world out there, so does the One stand a real chance against its rivals? HTC has had problems in recent years, losing market share to the likes of Samsung and Sony. We go hands-on with the flagship device to see what's what.
The camera
The fact that the HTC's camera is 'only' a 4-megapixel unit needs to be put into context. Yes, this may seem like a small sensor, but it's actually an UltraPixel unit, which accommodates much larger pixels to allow in more light and therefore more data. Not only does this save on space, but it also allows for a much quicker sensor than you get with traditional 13-megapixel units.
You get a decent number of settings to play, including ISO levels, exposure, contrast and sharpness. There's also an HDR mode that improves your pictures dramatically. The autofocus is top-notch, sometimes providing a blurred background that you'd expect to see from a proper DLSR. You also get some decent effect options to play with after you've shot your photos. In terms of quality, though, while the shots are great under well-lit conditions, they can appear grainy after dark. The flash will fix this, but the auto-flash function isn't all that good at deciding when you do and don't need it.
The OS
HTC has always differentiated itself from the rest of the Android pack with its Sense platform, which sits on top of Android and adds a couple of extra features. The most notable new feature on the One comes with the so-called BlinkFeed, a news centre that feeds from all of your social networks, RSS feeds and anything else you add uses them to display stories on the home screen.
It's an interesting way to keep track of everything, but if you add too many feeds, you end up with a discombobulated mess of stories that's impossible to keep up with. What's more, if BlinkFeed isn't how you'd like to consume your social or news media, you're stuck with it as one of your home screens. It's set as your default home screen, and though you can change what you want your default home screen to be, you still can't get rid of BlinkFeed altogether.
Apart from that, Sense stays on top of its game as an altogether more pleasant version of the stock Android OS. The camera app is a little fiddly thanks to short buttons, but on the whole, the One provides a fantastic user experience.
Desirability
The One's desirability has spread like wildfire across the region. Someone from Jacky's Electronics recently told us that the retailer couldn't keep enough handsets in stock. To be honest, we're not surprised – with it's sleek, aluminium design, stellar performance and beautiful OS, the One is one of the most desirable smartphones out there.
The verdict
Apart from not being able to get rid of BlinkFeed – we really didn't like it – this is a seriously well-sorted phone. The camera, on the whole, works brilliantly, it's sleek, it's desirable and it's hugely fast. Forget the Samsung Galaxy S4 – this is the Android phone of the moment. RATING – 9/10
Specs
Camera: 4MP Ultrapixel
Processor: Quad-core, 1.7GHz Qualcomm Snapdragon 600
Operating system: Android 4.1.2 Jelly Bean with HTC Sense
Dimensions: 137.4 x 68.2 x 9.3 millimetres
Weight: 143 grams
Battery: Non-removable Li-Po 2,300 mAh
Price: Dh2,699
Check out the next issue of Reseller Middle East, in which we put the HTC One head-to-head with the Nokia Lumia 920.