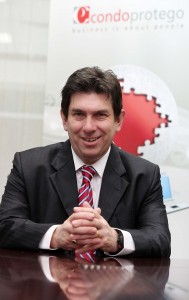 Big Data has morphed from silent, misunderstood elephant in the room into a huge opportunity for ambitious VARs, says Condo Protego CEO Andrew Calthorpe.
You can run but you can't hide.
For a while, Big Data was the silent elephant in the room – foreboding in bulk, yet relatively docile and contained; a novel, if undefinable, presence we'd awkwardly acknowledge from time to time. That was then. Today, Big Data is very much on the move, loudly shedding its reticence and threatening to upend all manner of figurative valuables and best-laid plans.
But business-leaders needn't cower behind the sofa as tsunamis of data crash around them.
If anything, this is a time for action, a chance for unprecedented insight and a springboard to previously unthinkable levels of innovations.
A new gold rush has arrived, and those in the know are already working up a sweat in their quest for unstructured data paydirt.
It is certainly clear why big data is prompting both frenzied activity and overwhelmed inertia.
According to technology research and advisory community Wikibon, 2012 big data vendor revenue stood at a whopping $11.4B, up 58 per cent on 2011. This year, the market is set to grow 61 per cent to hit $18.2B. An overall compound annual growth rate of 31 per cent is expected up until 2017.
Over at IDC, analysts predict that the digital universe will reach 40 zettabytes (ZB) by 2020, exceeding previous forecasts by 5 ZBs in what would represent 50-fold growth from the beginning of 2010.
Worryingly, IDC also cautions that the amount of data that requires protection is growing faster than the digital universe itself.
Less than a third of the digital universe required data protection in 2010, but that proportion is expected to exceed 40 per cent by 2020. The issue is compounded by increasingly advanced cyber-threats, as well as a general security skills gap.
The burning questions for businesses now necessarily revolve around variations of 'sink or swim?' or 'succumb or harness?'
Taking the big picture view, MENA's VARs would do well to connect with their clients and start to answer some of these questions with a positive outlook.
Top priority is to instill the mindset that data should never be dismissed as forbidding white noise, but rather treated as one of the most valuable assets in the game.
Driven by customer and market demands moving at breakneck speed, businesses need to engage with, capture, manage and transpose data into intelligent action to stay relevant.
Data unlocks routes to accelerated business processes, innovative business models and clarity of vision that enables smart planning ahead of the curve – irrespective of industry.
Gartner recently proclaimed that 2013 will be the year of larger scale adoption of Big Data technologies, noting that 42 percent of surveyed IT leaders are either investing now or planning to do so within the coming year.
A meticulously planned, cutting-edge and scalable IT architecture that can collate and store enormous amounts of unstructured data is now a must.  A whole lot of consultation and integration needs to take place across the region, and VARs need to be ready, willing and able to help make it happen.