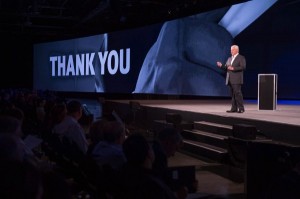 CEO Joe Tucci used EMC's Global Partner Summit (GPS), which ran as part of EMC World 2013, to promise partners the company will "significantly expand" the amount of business it does through the channel in the long term. Ben Rossi reports from Las Vegas.
Currently, the channel attributes for just over half of EMC's global business, and whilst Tucci didn't comment on the exact amount he wanted that number to grow to, he did say the increase will take place over a five-year period.
In the EMEA region, the figure is much higher. With the amount of channel business in the region already at 74 percent, EMC said that number will increase to as much as 80 percent in the near future.
During his partner keynote, Tucci was keen to emphasise how critical the channel is to the success of EMC.
"You are incredibly important, we need you," he said. "We know we do things that aren't perfect, but we want to be as close to perfect as we can. Let us know if we do things a little wrong and when we're doing things right. We are as dedicated to your success as we are to our success."
Tucci was also asked about how concerned he was with Oracle's position in the market, but he was quick to assure that he isn't losing any sleep at night.
He was just as fast in bashing Oracle, claiming its technology stack is nothing like the cloud, and that it gives partners less choice. He also said that unlike some rivals, EMC does not try to force the channel to partner with all its divisions; Pivotal, VMware and RSA.
"We are doing things very differently, and that will bring you a lot of opportunity," he said. "You're more than welcome – and encouraged to – partner with others and form your own ecosystem. That is very differentiating and is a very different message from that of our competitors."
EMC also used the event to announce key milestones it has achieved with its global partner ecosystem.
The EMC Certified Solution programme recorded significant growth in 2012 with a 300 percent increase in net licence revenue year-over-year, and strong growth in 2013 with a 325 percent increase in revenue year-over-year in the first quarter.
This strong performance has been supported by corresponding growth in EMC Certified Solutions, with EMC validating 80 partner-built applications, which has doubled since the same time last year.
The certification represents tested solutions that extend the functionality of products from the Information Intelligence Group (IIG) division of EMC.
A suspicious claim?
However, the main news at EMC World 2013 was the unveiling of what the company called the "world's first" software-defined storage platform, EMC ViPR. A claim, no doubt, that many would eagerly refute.
Software-defined storage as a term in itself is not new in the industry, and neither are solutions that tout themselves as just that.
However, the basis for EMC's claim stems from the definition of software-defined storage in itself, which is something that is yet to be settled amongst the industry's elite players that are all trying to be seen as leading the new paradigm.
The term rose to prominence as an ingredient of what VMware called the software-defined data centre (SDDC) at its annual virtualisation conference, VMworld, last year. An SSDC is a data centre in which the entire infrastructure — networking, server, storage and security — is virtualised, automated and managed by software.
The storage element is significant because, with an inflection point in the industry appearing imminent, those vendors that get it right will be securing a sizeable chunk of the market.
According to the man behind ViPR, Amitabh Srivastava, President, Advanced Storage Division, EMC is able to make the "world's first" claim because every attempt at defining it up to now — including EMC's — has been wrong.
"Everyone is defining software-defined storage in their own way," Srivastava said. "Because there is currently no fixed definition of it, a lot of them are taking an appliance that was built a few years ago and, just because it runs software and there are hardware intervals running on a virtualised system, they're calling that software-defined storage.
"I don't think so, because software-defined storage is all about building it for the cloud and the software-defined data centre. It's not about a single array, it's about an entire storage infrastructure which is highly scalable and available, because that's the end goal.
"That is why ViPR is really designed with the goal of how I can take your storage infrastructure and arrays to this massive cloud infrastructure that can plug into this software-defined data centre. None of these systems are even talking about any of the stuff we are talking about."
In any device, the data path is where the data comes in and out of the array, and the control path is used to really manage the arrays.
According to Srivastava, all previous systems claiming to be software-defined have been built first of all as an appliance, and always in the data path.
ViPR manages both planes and decouples them from each other to allow them to be used together. Customers can also use only the control plane to manage the underlying intelligence of the storage arrays through policy-based automation, which EMC called a "radical departure" from prior attempts to virtualise storage.
EMC is essentially trying to do for storage what VMware has already done for servers — abstracting, pooling and automating the infrastructure.
Whether EMC's definition of software-defined storage is what the market wants will only be determined by the customer response, but Srivastava said he is confident he and his team have got it right this time.