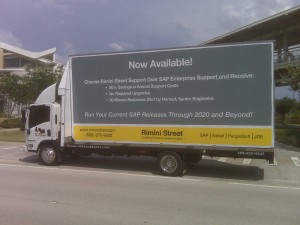 Rimini Street, a third-party maintenance and support provider for enterprise software, posted impressive growth results in the EMEA region during 2012, leading Oracle and SAP to feel increasing amounts of pressure.
This is because Rimini Street says its growth is down to being able to offer SAP and Oracle clients savings of 50 percent in annual support fees, and also reductions in related support and maintenance costs that has seen some companies save up to 90 percent in total support costs.
These impressive savings for customers coupled with an intense economic climate and enterprise software giants increasing their support fees has meant that Rimini has been able to more than double new sales in EMEA during 2012, with 117 percent year-over-year growth in new client invoicing.
It has achieved more than $42 million (£30 million) in new EMEA sales books and nearly doubled the total number of clients in the region.
"In search of the industry's most value-driven enterprise software support option, more and more organisations in EMEA and across the world continue to choose Rimini Street as their preferred annual support vendor over SAP and Oracle," said Seth Ravin, CEO, Rimini Street.
"We remain committed to growing our support capabilities across EMEA and other regions in order to meet the strong market demand for premium-level support services with up to 90 percent in total support cost savings compared to the vendor's support offering."
Although Oracle and SAP fought hard against the rise of the likes of Rimini Street with intense legal battles, it is also true that some customers will never look to third-party support as it doesn't include access to the latest innovation and upgrades.
British snack supplier United Biscuits, which owns brands such as McVitie's, KP Nuts, Hula Hoops and Twiglets, recently revealed that it has saved hundreds of thousands of pounds in maintenance costs by moving from SAP vendor support to Rimini Street.