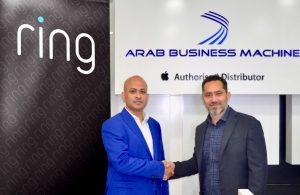 Smart home security solutions provider Ring has announced that it has signed a value-added distribution (VAD) agreement with Arab Business Machine Middle East (ABM) for the Middle East and North Africa (MENA).  As per the agreement, ABM will promote and distribute Ring's home security products and solutions and offer value-added services through its extensive channel partner network. Ring said it is expanding its global presence and operations in response to the region witnessing a positive growth of the property sector with many developers focusing on building master-planned communities and the increasing demand for home security solutions.
"Your home is not an asset – your home is a place that has much more meaning to it and it is something you want to protect and also monitor. Ring believes in keeping homes and communities safe rather than just comfortable and we hope to change the way home owners view security by keeping an eye on their family and property, even when they can't," said Mohammad Meraj Hoda, managing director, Ring. "Ring re-imagined the doorbell so consumers could respond – using a smartphone – to someone at their front door from anyplace, anytime while simplifying the technology with the combination of App, Cloud and Security hardware. ABM is well placed in the MENA region to position our smart home security products with its broader reach across key retailers, Internet Service Providers and online stores. ABM's experience in selling Apple products for more than a decade gives us further confidence of its capabilities on best in class retail execution for Ring's range of the products and solutions."
As the VAD, ABM will distribute Ring's latest suite of smart home security products such as Ring Video Doorbell, Ring Video Doorbell Pro, Video Doorbell Elite, Ring Floodlight Cam and the new Ring Spotlight Cam and conduct channel engagement, training and activation programmes for partners. ABM will also set up go-to-market strategies with key retail partners and provide the needed infrastructure for micro-channel to engage with the Ring brand.
"We are continuously evaluating new and innovative technologies and emerging trends to add to our portfolio, which have a direct impact on the dynamics of the home security industry in the residential security sector in the MENA region. This makes our partnership with Ring a perfect fit. We see exciting new possibilities in this partnership with Ring across the MENA region and it will help ABM to better address our customer's needs in today's environment of ever-increasing demand for home security solutions," said Ghassan Bendali, general manager, ABM Middle East.
ABM will distribute Ring's best-of-breed home security solutions in the UAE, Jordan, Lebanon, Oman, Kuwait, Qatar, Bahrain, Egypt, Algeria, Tunisia, Morocco and Iraq.