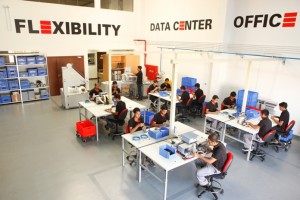 Swiss cabling firm Reichle & De-Massari (R&M) today unveiled its new patch cord assembly facility in Dubai – the first of its kind in the Middle East.
The assembly line was inaugurated by R&M's owner Peter Reichle, COO Markus Stieger and executive VP for MEA Jean-Pierre Labry.
Also present were H.E. Walter Deplazes, Consul General of Switzerland (Dubai and northern Emirates), Peter Harradine, president of the Swiss Business Council in Dubai, and officials from Dubai Airport Freezone (DAFZ), which is where the assembly line is located.
In addition to serving R&M customers across the Middle East and Africa, the assembly will also supply patch cords to countries in the Asia Pacific region including India, China, Japan, Singapore and Australia.
"Our customers would previously receive patch cords from our headquarters in Switzerland, but as the region now boasts of its own assembly facility, our Middle East and Africa customers as well as those in Asia Pacific can be assured of much faster delivery," said Reichle.
The patch cord is a vital cabling component for data centres and R&M said today's inauguration is in line with its aim of being recognised as the region's leading data centre solutions provider by 2013.
Patch cords, which are also vital for office cabling, are most widely used for connecting endpoint devices such as laptops, telephones and desktops to wall outlets, or in the interconnection of network equipments like port switches and servers.
These cords require a high degree of flexibility and customisation of their lengths and types to meet various infrastructure requirements. Due to factors such as cooling, air circulation and power consumption, patch cords have an impact on the overall efficiency of the data centre.
With the newly opened production unit, R&M is now strongly positioned to deliver a high degree of customisation to the region, including cable colour, casing material and serial number printing in short turn-around times.
"Having the first-of-its-kind patch cord assembly facility in Dubai will allow us to be more customer-oriented and will help us become the fastest and most efficient vendor in the market. Speed and flexibility are the key advantages of this new setup which allows R&M MEA to be the first vendor to address this regional demand in such a proactive manner," said Labry.
"We have been investing heavily in the region and most recently, Mr. Martin Reichle, owner and executive board member, inaugurated a new regional office in Saudi Arabia. We are recognised as one of the top three players in the region thanks to our strong local presence together with world class facilities," he added.
Over the past three years, R&M MEA has increased its staff by nearly four times. It said it continues to invest heavily in the region, in both manpower and infrastructure.