His Highness Sheikh Ahmed bin Saeed Al Maktoum, president of Dubai Civil Aviation Authority and chief executive of Emirates Airline and Group, has launched the operation of 50 Tesla electric vehicles to the limo fleet of the Dubai Taxi Corporation.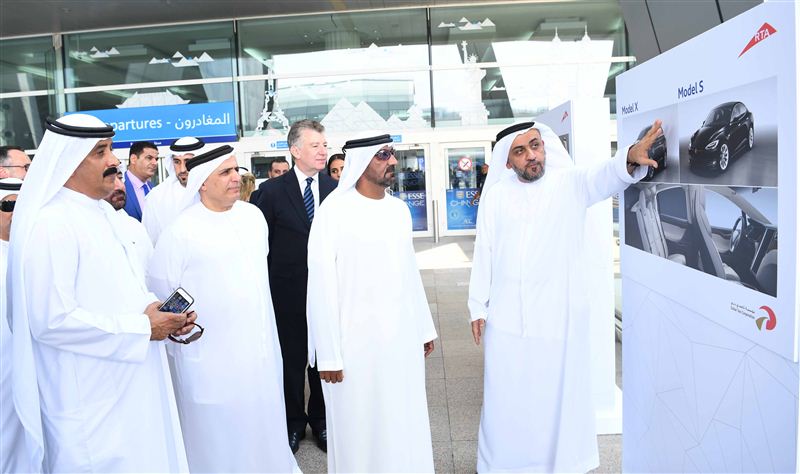 Integrating these vehicles, which are fitted with several components of self-driving techniques, is a manifestation of the directives of His Highness Sheikh Mohammed bin Rashid Al Maktoum to transform Dubai into the smartest city in the world. It also replicates the Green Economy for Sustainable Development Initiative, and the Dubai Smart Autonomous Mobility Strategy aimed at converting 25 percent of total journeys into driverless journeys by 2030.
HE Mattar Al Tayer, director-general and chairman of the Board of Executive Directors of the RTA, and Paul Griffiths, CEO of Dubai Airports attended the launch ceremony, which was held at the entrance of the Dubai International Airport (Terminal 3). Also in attendance was Peter Bardenfleth, representing Tesla, the world's leading manufacturer of autonomous vehicles.
"The RTA has recently taken delivery of 50 Tesla vehicles as part of a deal for 200 vehicles signed last February on the sidelines of the World Government Summit 2017," said Al Tayer. "Accordingly, 75 vehicles will be supplied in 2018, and 75 others to be delivered in 2019. The Dubai Taxi Corporation has coordinated with the concerned parties to provide the needed infrastructure to ensure the operation of these vehicles including the provision of 13 electric recharging stations."
The RTA has contracted Model S and Model X from Tesla's fleet.
"Model S has garnered the largest possible rating of safety at the time of launch, as it can cover the longest distance amongst electric vehicles. Besides its performance and facilities, Model X has a unique feature as it is fitted with falcon wing doors, panoramic windshield, a seven-seat configuration that provides an unprecedented level of comfort, and manoeuvrability," added Al Tayer.
"Both models are equipped with the hardware needed for full self-driving capability at a safety level greater than that of a human driver. Tesla's Autopilot is designed as a hands-on experience to give drivers more confidence behind the wheel, increase their safety on the road, and make highway driving more enjoyable by reducing the driver's workload."
During the event, HH Sheikh Ahmed bin Saeed Al Maktoum, accompanied by HE Mattar Al Tayer, boarded one of the vehicles for a short tour.