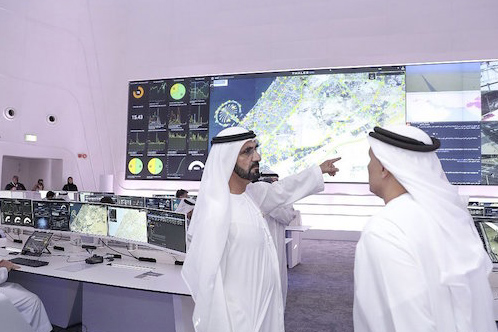 Dubai's Roads and Transport Authority has launched an AED 335 million ($90 million) enterprise command and control centre, the EC3, which will act as a unified platform linking various control centres of the Authority's operational agencies with an integrated central control unit.
The system is equipped with a range of artificial intelligence and machine learning features.
According to the authority, EC3 will prop up the RTA's efforts in easing traffic congestions and improve customers' transit experience.
His Highness Sheikh Mohammed bin Rashid Al Maktoum, Vice President, Prime Minister and Ruler of Dubai opened the centre, and the opening ceremony was attended by RTA director-general and chairman of the board of directors, Matar Mohammed Al Tayer, director-general of Dubai Protocol and Hospitality Department, Khalifa Saeed Sulaiman, and the Commander-in-Chief of Dubai Police, Major General Abdullah Khalifa Al Marri.
The EC3 hopes to enable the development of mobility plans to cope with various transport challenges in the emirate, as well as the control of all its mass transit systems, including the Dubai Metro, Dubai Tram, public buses, taxis and marine transit modes in addition to the traffic control systems.
The EC3 building, which has a total area of 10,900 square metres, is fitted with a helipad and has a main control room spanning an area of 430 square metres. It has five subsidiary control rooms for various uses, two multi-purpose halls overlooking the main control room. They have accessibility to the mass transit system and the traffic system to enable the leadership team to take appropriate decisions during emergencies and crises.
The EC3 currently links the controls of RTA operational agencies with a central, integrated and control system unit connected with all RTA agencies, with other entities of relevance to RTA business soon to be included in the system design.
The centre links with external systems, as well as receiving and managing the feeds of 11,231 surveillance cameras. It uses artificial intelligence in the management of accidents, crises and data of smartphones in planning and managing the movement of crowds through automated identification of population density and directing transit modes to serve them.
The system is fitted with a machine learning feature that can build the system's potential for tackling emergencies in a way that ensures quick response and reduced human error.