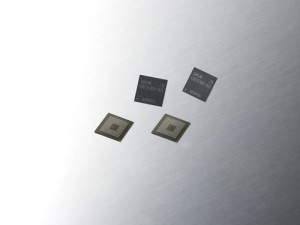 Samsung Electronics has started mass production of a new type of memory chip for mobile devices, LPDDR3, that will dramatically increase performance in future smartphones and tablets, it said Tuesday.
The new memory, which meets a standard published in May, will allow future devices to play high-definition video in real time on larger mobile screens than is currently possible, Samsung said. The new RAM will allow data rates of 12.8GB/second, much faster than the current generation of mobile RAM, which usually transfers at 8.5GB/second.
In modern mobile devices, memory and processor specifications are increasingly driven by requirements for bigger and richer displays, a major point of competition between manufacturers, as opposed to application requirements.
For phones and tablets, where battery life is at a premium, devices are usually built with a special type of low-power memory, called LPDDR, which is more efficient and has stand-by modes for idle time, but is slower and more expensive than the traditional RAM used in computers. The time required to read and write from memory has become a major bottleneck to faster gadgets with better graphics.
Samsung said it is the first to produce 2GB DRAM for mobile phones under the next-generation LPDDR3 standard, the successor to the current mainstream LPDDR2. It is making the new chips using 30-nanometer technology.
The South Korean manufacturer, which is increasingly well-known among consumers for its Galaxy brand, is also one of the world's largest component makers, supplying memory chips, displays, and flash storage to rival device makers such as Apple.
Samsung has said it is working toward hardware which will allow 4k resolution displays, the current cutting edge for full-sized TVs, to appear on tablets in 2014, along with the current TV standard of high-definition on mobile phones. The newer 4k, named for its horizontal resolution of almost 4,000 pixels, has about four times the resolution of HD.