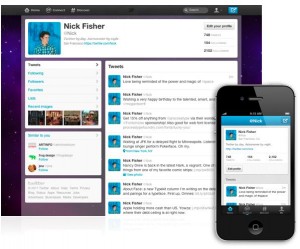 Twitter is getting a new look and it's looking a lot like Facebook.
Twitter CEO Dick Costolo showed the site's redesign on the Today Show in the U.S. yesterday and talked about putting a new focus on user photos and profiles.
Users will be able to check out the new look on Twitter.com or Twitter's apps for the Android platform and iPhone, as well as the company's newly overhauled app for the iPad.
"Users want to bring more of their personality to their profile pages," Costolo said.
Twitter's redesign includes giving users the ability to upload what the company calls a header photo. The photo, which gets a lot of screen real estate at the top of the user's Twitter page, sits above the tweets.
The site also added photo streams to its mobile apps, enabling users to scroll through thumbnails of others' photos or click on them to see a full-size image.
The change looks similar to what Facebook users can add on the top of their new timelines.
"Twitter is slowly changing its look, feel and functionality, which makes it look more like Facebook than the older, simpler Twitter," said Patrick Moorhead, an analyst with Moor Insights & Strategy. "Twitter is smart to explore increasing levels of engagement because it has the capability to pull people from Facebook to Twitter."
Moorhead also said the redesign makes the site more appealing.
"Twitter's new look is more personal and engaging, but also more complicated," he added. "The picture capability makes the site look more like a destination than any time before it with more things to see, click on and more decisions to make."
Rob Enderle, an analyst with the Enderle Group, agreed the change is a good move that seems to personalise the site.
"It's a nice improvement that shouldn't irritate too many people," Enderle said. "Picking what works for a competitor and enhancing it without destroying who you are is a tried and true strategy in the tech market."