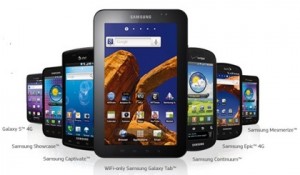 Samsung has had its security-enhanced smartphones and tablets approved for use by the U.S. military.
The U.S. Department of Defence (DoD) says it is now happy to use Samsung Android devices in the field after its Defence Information Systems Agency (DISA) finished testing Samsung devices equipped with the Samsung Knox security system.
Android is perceived by many as a less secure mobile operating system than others because of its open source nature, and the fact hackers have managed to place malware-ridden applications in the official Android app marketplace on numerous occasions.
But now, with official DoD approval, Samsung Knox-enabled devices will be listed as approved products for use by U.S. government and military officials within DoD networks. "The DoD security requirement guidelines for mobile operation systems are among the highest security standards in the world, and this marks the first time for Android-powered devices to meet such high security requirements," said Samsung.
J. K. Shin, CEO of IT and mobile communications at Samsung, added, "This approval enables other government agencies and regulated industries such as healthcare and financial services to adopt Samsung Galaxy smartphones and tablets. This is a significant milestone for Samsung as we work to grow our relationships within government and large corporate enterprises."
Samsung Knox is designed to deliver fundamental security needs at the platform level, "while leaving the user experience consistent", claims Samsung. Whether that means military personnel will be allowed to download whatever Android apps they like in the field is probably a moot point.
Samsung Knox incorporates the Security Enhancement (SE) for Android system and integrity management services implemented in both hardware and the Android framework. Samsung Knox employs strong encryption and process isolation to protect business and critical information from data leakage and malware attacks.
The recently launched 4G-enabled Samsung Galaxy S4 is the first smartphone to be enabled with Knox. Going forward, said Samsung, all premium smartphones and tablets will feature Samsung Knox.
Following DoD approval, Samsung says it is actively seeking certifications from other international government certification bodies for Samsung Knox-enabled devices to be used in government networks worldwide.