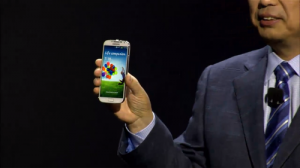 After months of speculation, Samsung has finally unveiled its new Galaxy S4 smartphone, which will support global LTE roaming and has front- and rear-facing cameras that can be used simultaneously, the firm said.
Samsung introduced the phone Thursday evening during a launch event at New York City's Radio City Music Hall. The event was also broadcast live to people watching in New York's Times Square.
One new feature is that the front- and rear-facing cameras can be used at the same time. This will allow a person to make a video call while simultaneously showing people on the other end of the line what they're looking at, Samsung says.
Two photos taken simultaneously can also be combined in various ways, by placing a small photo within a larger one, for instance. It remains to be seen if it will be a useful feature or only a novelty.
The S4 has a slightly bigger screen than the S3, at 5 inches, and weighs a fraction less, at 130 grams. It's also slightly slimmer, at 7.9 millimetres thick.
It will be offered with a 1.9GHz quad-core processor or a 1.6GHz octa-core processor, depending on the market, Samsung said.
The phone will be available from 327 operators in 155 countries starting at the end of April, Samsung said. It didn't give much more shipping information than that, except to say it will be released in the U.S. in the second quarter.
The S4 supports HSPA+42 Mbps and 4G LTE, which Samsung said will provide connectivity anywhere in the world. The LTE version supports up to six different band sets, allowing for global LTE roaming, according to Samsung. A dual-mode TDD/FDD LTE version will be introduced later this year, Samsung said.
The networks supported will allow for download speeds of 100 megabits per second and upload speeds of 50 megabits per second, Samsung said.
The screen is a Super AMOLED display with 441 pixels per inch. It comes with 2GB of DDR3 memory and storage options of 16GB, 32GB and 64GB. A MicroSD card slot can expand that by an extra 64GB.
The phone will come in two colours at launch, black and white, or what Samsung calls "black mist" and "white frost." Other colours will follow later.
It has a 13-megapixel camera on the back and a 2-megapixel camera on the front.
Samsung executives also discussed a new "visual effects" engine used to spruce up the interface. The black bar across the top of the screen is gone, with information about battery life and signal strength displayed in a translucent bar that's supposed to blend in more with the rest of the screen.
The phone gets two new sensors over the existing Galaxy S3 – an infrared gesture sensor and a sensor for temperature and humidity. They should allow developers to build a wider range of apps.
The S4 can also be used as a TV remote, executives said. It will run Android 4.2.2, Jelly Bean. It has a removable, 2,600 mAh (milliAmphour) battery, up from 2100 mAh on the S3.