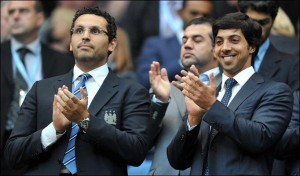 SAP and Abu Dhabi-owned City Football Group (CFG) have announced a technology partnership that aims to transform the way the Group and its football teams operate and perform.
Owned by Abu Dhabi United Group, with Sheikh Mansour Bin Zayed Al Nahyan as its owner and Khaldoon Al Mubarak as Chairman, CFG – comprising Manchester City FC, New York City FC, Melbourne City FC and Yokohama F. Marinos – will use SAP as its cloud provider.
CFG and its clubs will implement a variety of cloud-based solutions powered by the HANA platform with the aim to simplify their worldwide operations, increase productivity and enhance the fan experience.
Since buying Manchester City in 2008, the standout successes of the Abu Dhabi investment – which has cost the club hundreds of millions of dollars – have been the club's English Premier League title victories in 2012 and 2014, and FA Cup triumph in 2011.
In the midst of those wins, CFG has added the other clubs to its portfolio.
Now, the company is looking to leverage SAP to boost its footballing and commercial potential.
Franck Cohen, President, SAP EMEA, said, "The partnership with CFG is unique, as it is the only truly international football organisation with its four clubs, which complements our strategy. It's an incredibly exciting venture and a continuation of our fantastic relationship with the Abu Dhabi authorities."
CFG will utilise cloud solutions from SAP, including SuccessFactors solutions, the Jam social software platform and the Simple Finance solution powered by HANA.
Analytics solutions from SAP, including Predictive Analytics software and BusinessObjects business intelligence solutions, will be the center of CFG's new information infrastructure in order to analyze and simulate all data from ticketing to merchandising to allow decision makers across the organisation to make faster and more informed decisions.
A variety of SAP solutions will be leveraged to enhance the fan experience in CFG team stadiums around the world, including an interactive digital insights wall at the Etihad Stadium that will bring real-time analytics and insights to fans attending matches.
Looking forward, City Football Group will co-innovate with SAP on new technological enhancements in the areas of talent management, football performance and human performance for future versions of the SAP Sports One Solution.
Sports One provides users with a platform to manage their individual teams and players, as well as analyse and contextualise data from different sources and in various formats for new insights for performance optimisation.
The partnership with CFG builds on SAP's growing portfolio of relationships throughout football around the world.
Last summer, SAP and the German National Team co-innovated on the development of SAP Match Insights, using HANA, which enabled the team to collect and analyse player data during training to help them secure their fourth World Cup.
Mubarak said, "This partnership is as important as it is broad, stretching across all entities within the City Football Group. In SAP we have found a technology partner that is committed globally to our businesses and one that shares our constant drive for innovation. Our common ambition is to create groundbreaking football specific technology solutions and products and I have every confidence that we will be successful."