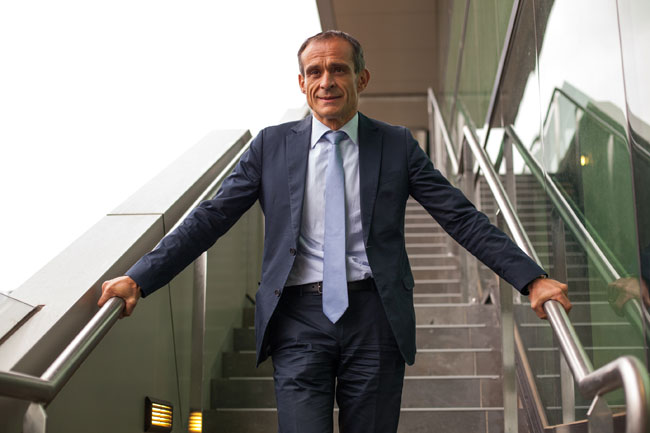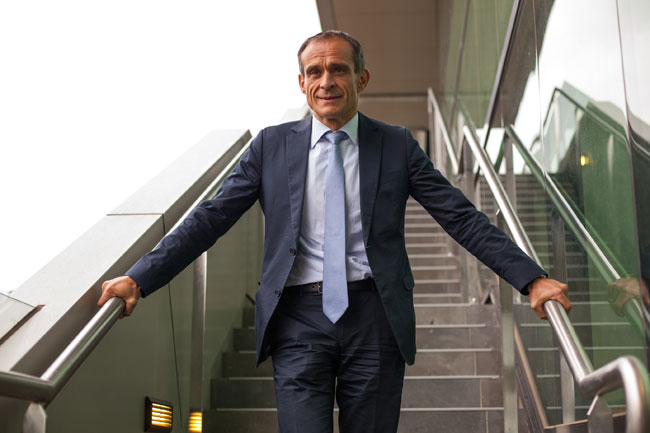 Schneider Electric CEO Jean-Pascal Tricoire spoke to James Dartnell on the sidelines of the launch of the firm's Innovation Hub On Wheels today at Dubai Silicon Oasis.
 You've just inaugurated your Innovation Hub on Wheels at Dubai Silicon Oasis…
The centre is an initiative to make sure we can create an innovation environment for EcoStruxure, our digital ecosystem. Rather than expecting people to meet in one place, our truck can go to our partners and customers, and make sure that we have as many people in contact with us as possible. We are aiming to be with 150 companies in the coming months, to train and meet with hundreds of people.
What are your thoughts on the announcement that Saudi Arabia will build $500 billion city NEOM by 2030? Is that your biggest opportunity in the Middle East in the coming years?
We have plenty of opportunities but that's a very exciting, inspiring project, and we would love to participate in it. We want to participate in all the large projects that are happening in this region. It is a priority, but so are the other large projects in this region.
We've increased our investment in Dubai and Saudi every year, and we intend to be here for the long-term. We've been gradually increasing our presence in the Middle East, and currently have three manufacturing plants in Saudi Arabia today, and as the market grows, we will continue to grow.
How do you believe that IT and technology can solve the world's power issues?
 It's probably the only solution today. If you look at the way we produce and use energy today, there's massive waste all over the chain. The first thing to consider is energy saving. It seems like an old kind of mantra, but the reality is with digital you can save 30-70 percent of the energy you consume everywhere. It starts with buildings. People don't switch off the AC – which is 70 percent of the energy consumption in Dubai – they don't switch off lights. Machines can, however. Take a school for instance, with machines doing this job, it can save 50 percent of the energy it uses.
The second thing to consider is that we have to share energy better, because we all consume it at the same time. So, once everything is connected, you can inform people when energy is plentiful, green or cheap. An example that clearly illustrates the point is how today, in the chain of electricity, for every unit of electricity that is consumed, you will burn three just by using it with all the losses in the chain. Making sure that you use digitisation all over the chain means that you can save and share the energy that is available.
Renewables is another disruption in the field of energy. They're great, because they bring energy at a marginal cost of zero once installation has been done, but they're difficult to manage because they're intermittent. If you combine renewables, storage and digital, you can really manage the intermittency nature of renewables. That will allow true alternatives to consume energy in a different manner.
Are smart buildings a reality for organisations in the Middle East, particularly in terms of cost?
 The answer is essentially the opposite of what you're suggesting. I don't think people realise what digital brings to the table. Firstly, we are already building net positive energy buildings in the world; buildings that are energy-neutral to their environment.
Next, the use of digital technology brings the cost to a much lower level than what was done before to make buildings efficient. After three years, the gains are all benefits. It's like when you quit smoking, it may seem difficult at the beginning but you end up with better health and more money to spend.
The first sector where we did a lot of energy efficiency was education, because many places were having trouble making ends meet. If you save on your energy bill, you can afford more for actually running the school. New technologies make efficiency much more affordable, and the gains you make translate into money you can reinvest elsewhere.
For the full length interview, make sure you read the December issue of CNME magazine.