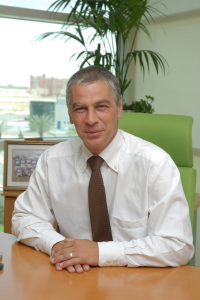 Global leaders in energy management Schneider Electric and technology major Microsoft Corporation have reinforced their global alliance through a showcase of the latest in state-of-the-art data centre solutions at the Microsoft Technology Center (MTC), Microsoft Gulf,  Dubai Internet City.
APC by Schneider Electric's demo centre at MTC Dubai integrates Microsoft's enterprise management platforms and Schneider Electric's DCPI management expertise to deliver a best-in-class data centre with the lowest total cost of ownership (TCO) as well as the highest availability and efficiency from Schneider Electric and Microsoft solution architects.
As a Global Technology Partner of MTC, APC by Schneider Electric provides the DCPI and physical layer management for 16 of 20 demo centres at MTCs worldwide. The collaboration forms part of the Microsoft System Center Alliance program.
Christian Bertrand, Vice-President, MEA at APC by Schneider Electric, said: "The APC by Schneider Electric demo centre at MTC Dubai is a collaborative state-of-the-art facility that connects customers with our joint technologies and world-class expertise, enabling them to envision, design and deploy solutions that precisely meet their individual needs. We are confident that the facility will add value to the experience of both our existing and new customers, particularly in light of the growing demand for customised energy efficient products in the region."
Visitors to the centre can explore the impact of the physical infrastructure on the IT environment and also experience its integration with Microsoft private cloud capabilities through the System Centre. Additionally, they can examine the way software fully manages the physical environment with Schneider Electric's Struxureware solution, which allows users to dramatically simplify the process of managing their data centres and deliver the right information to the right user in real time, saving money and energy.
The centre is manned by experts to highlight the deployment, operational and orchestration details of Schneider Electric's newly launched 'ISX in a Box', out-of-the-box data centre solutions that are installable and commissioned within four weeks from order – the fastest time-to-value in the industry.
Other solutions that are spotlighted include integrated monitoring of the data centre environment for power, cooling, security and environment. Multi-vendor support for third party physical infrastructure as well as operational and energy efficiency of data centres through power consumption management systems is additionally demonstrated.
Commenting on the commercial performance of the partnership, Ranei Ayoub Technical Manager   Microsoft Technology Center Dubai, added: "We have built a strong sales pipeline from the MTCs worldwide and a solid marketing relationship across the globe that has resulted in everything from events to videos and articles. Our synergy with Schneider Electric at the MTC Dubai Demo Centre is an important step in the right direction that is anticipated to generate positive long-term outcomes for our potential clients in the region."