The Exos 2U12 Storage Solution that recently entered the market and has taken on the storage solutions industry by storm. Entering at a competitive price point, the Seagate Exos X 2U12 delivers advanced data protection, capacity, and performance.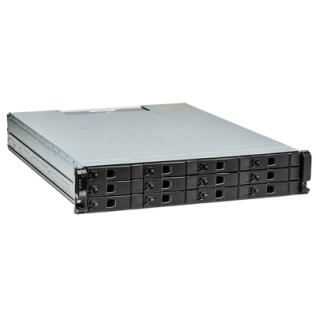 The technologically-advanced storage solution is currently being implemented by a luxury hotel in Downtown Dubai – the central hub for safe and secure tourism. The space-saving storage block is efficient, agile, and scalable and can support cables, universal ports, configuration controls and standard zoning.
Optimizes Capacity and Delivers Consistent High Performance
The Exos 2U12 Storage Solutions that has a maximum throughput of 14.4 GB/s in a single I/O module or 28.8GB/s in a dual controller configuration, works on leveraging both speed and performance and is designed to assist even the smallest of businesses to get data to their respective applications at the speed of light.
The impressive Exos Solution is 95% faster than comparable solutions that are reliant on low-cost, low-capacity hard disk drives (HDD) and are often used to minimise storage expenses and so you can rest easy knowing that the system will operate at maximum capacity while offering optimum security.
Delivers Versatile Infrastructure That Can Be Built to Scale
The Exos 2U12 Storage Solution is designed for administrators that require a compact storage solution that can pair and integrate to the scale of the business and is the ideal solution for those customers who seek a balance of price, performance, and storage density.
The storage solution can expand up to 144 SSDs and hard drives. By using this flexible solution that is easy to set up, maintain and expand with the use of interchangeable FRUs and hot-swappable components, users now have the ability to gain instant virtual access to their stored data and can save space with up to 12 drives in a 2U rackmount enclosure.
Easy Access to Critical Data
The Exos 2U12 Storage Solution marries cost efficiency with high volumes of data availability. Providing up to 99.999% of data, the solution's architecture, data replication and fast streaming allow for access to data to be uninterrupted and fool-proof. The solution also comes equipped with the exclusive Seagate ADAPT data protection technology that enables and supports fast and efficient drive rebuilds that intend to completely eliminate system downtime.
Go Green with Exos 2U12
The solution that meets the stringent global requirements for recycling, is not only environmentally conscious but also houses an agile system that adapts as the use cases evolve and the need for capacity increases. The datasphere is well-matched for the small-to-medium business market thanks to its competent management capabilities and high capacity that helps minimise environmental impact.
Places Security as Its Main Priority
When looking at storage solutions, it is no secret that companies and users value security above all else. The Exos 2U12 Storage Solution comes equipped with Seagate Secure cybersecurity features and intelligent firmware that not only provides easy access to stored data, but also allows for reliable and safe file access, transfer and management.
The Seagate Exos 2U12 is the perfect addition to any small-to-medium business that is on the lookout for a fast, easy and reliable storage solution. The technology produced by Seagate in a cost-efficient way is like no other and is set to be considered to be a serious competitor against other such storage solutions in the market.