Redinext, a cybersecurity distribution firm focusing on the Middle East region, has been launched in Dubai, United Arab Emirates, to provide cutting-edge defence technologies for businesses of all sizes. With a shared vision to address the cybersecurity needs of the Middle East, Redinext has forged impactful partnerships in the region to safeguard enterprises with next-generation technologies. From enterprise patch management and zero-trust security to brand protection and privileged access management, Redinext's scalable solutions can be integrated seamlessly into the security framework of all types of enterprises.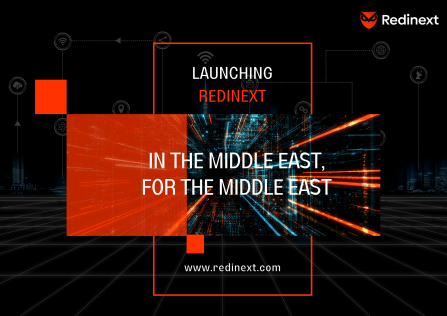 Cyber capacity in the Middle East
The Middle East is facing a serious cyber pandemic amid the COVID-19 crisis. According to the Head of UAE Government Cybersecurity, the UAE alone has witnessed a 250% increase in cyberattacks this year, with phishing and ransomware incidents surging in frequency. Even though cybersecurity has gained traction in the US and Europe in the last few years, it is still at a nascent stage in the Middle East. The deficient cyberinfrastructure in the Middle East has incurred a spate of sophisticated cyber attacks in recent years, giving rise to serious economic loss and damage to critical infrastructure. As remote work has become the new norm and companies are adopting a digital business model, the security of information and privacy has become more significant than ever.
Thus, Redinext is stepping up efforts to expand to the Middle East along with strategic partners to focus exclusively on the biggest vulnerabilities prevailing in the region. With strong expertise in delivering high-performance and security-centric solutions, Redinext will navigate businesses to stay ahead of emerging threats, thus leveraging the cybersecurity of the Middle East region.
Strengthening the security infrastructure with Redinext
"The Middle East region has invariably been clobbered by high-profile breaches in recent years. It takes strong partnerships to strengthen the cybersecurity landscape in the region", said David Wurtz, CEO of Redinext. "Our strategic tie-ups with industry-leading partners will bring about the most advanced and disruptive technologies to address the needs of every type of organisation, from SMB to multinational enterprises. We move beyond single products and provide comprehensive solutions to deliver tangible and transformative business benefits". With a global network of Redinext experts spanning from North America to the Middle East and Europe, Redinext also helps in vendor business acceleration and aims at driving business innovations to a new technological frontier.
Shaping the future of digital transformation in the Middle East
With digitalisation evolving rapidly in Middle Eastern countries and businesses undergoing a digital transformation, data has become one of the most valuable resources in an interconnected business ecosystem. Cybersecurity is as crucial as any other safety standards adopted by companies. It is a remarkably fulfilling mission that the dynamic Redinext team is committed to achieving to build a secure and connected digital society.
With its proven experience across a range of parameters in marketing, technical and finance services, Redinext is positioned uniquely in the market. By adding extra value to the customer base through future-proof solutions, Redinext goes beyond traditional distribution to tackle the unprecedented emergence of cyber threats.