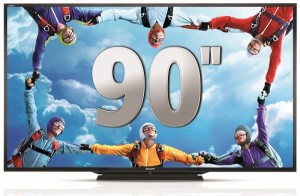 Sharp Middle East announced on Thursday that it will offer consumers a sneak preview of its new, 90-inch Aquos LED TV at the upcoming Abu Dhabi Electronics Shopper (ADES) 2013.
The TV is billed as the world's largest commercially available LED TV, weighing in at 64 kilograms and measuring two metres in width and 1.2 metres in height. Highlights of the device include X-Generation Panel Technology, which offers a wider aperture ratio that allows easy light transmission through the panel, offering good image contrast quality and lower power consumption.
Sharp also highlights the TV's UV2A technology, which sees UV light controlling liquid crystal molecules to ensure uniform alignment, as a big selling point of the Aquos.
Sharp said that it wants to lead regional demand in the large-screen TV segment, which comprises 60-inch TVs and above.
"The Middle East continues to be one of the key markets in the large-screen TV segment for our company – largely due to the healthy volumes of demand that we are seeing, especially in markets such as Abu Dhabi in the UAE," said Manu Mahdi, DGM of Sales and Marketing, Consumer Electronics Division, Sharp.
ADES 2013 is expected to attract more than 75,000 visitors from all consumer segments, making it the ideal platform for big-name electronics brands to showcase their products. The event is due to be held from March 14 to 18.
Sharp said that the 90-inch Aquos LED TV will be available in the Middle East by Q2 this year.