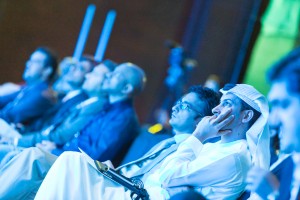 BlackBerry might be all about the glamorous events these days, but as visitors to its Middle East BlackBerry Forum on Wednesday saw, the products are speaking for themselves. 
You have to admire BlackBerry's efforts to claw back some of its former appeal. Glitzy events, heavy on professional lighting and high-tech production, dropping the Research In Motion name and hiring A-list singer Alicia Keys as creative director have all helped to show that this company is as up-to-the-minute and stylish as any other tech brand out there. Great reviews of the firm's new Z10 smartphone have helped, too.
No doubt some analogy about a phoenix rising from the ashes would be appropriate here, but there's still plenty of work to be done at BlackBerry, and the firm knows it.
Perhaps this is why the über-slick rhetoric was shovelled on aplenty at the Middle East BlackBerry Experience Forum this week. Despite it being an event for tech-savvy and discerning enterprise IT managers – explaining what BlackBerry can offer in terms of enterprise mobility – Broadway-style lighting, trending pop tracks and slick, overly produced videos welcomed Robert Bose, Managing Director for the Middle East and Africa, BlackBerry, onto the stage. It was enough to make anyone feel like they were attending something special, and Bose played on that perfectly.
"The Middle East is a very strategic market for us – we're always excited to be working in a part of the world that embraces technology," he said, feeding the attendees' egos. "We've been working to change with the market to provide a compelling vision for the future of global computing."
It was all a little lofty, for sure, but there was no doubting the facts that he then fed the audience. In the Middle East, BlackBerry is the leading choice for enterprise mobility, serving the likes of Emirates Group, Aramco and Emirates NBD, as well as government entities like the Abu Dhabi Police. When the new Z10 was released in the UAE, Bose said, carriers sold out within the first week, and Axiom, a retailer, says that the Z10 currently makes up 60 percent of its smartphone sales.
There's a lot of hype surrounding BlackBerry on the consumer side, then, but this was about what the firm's new products can do for the enterprise. To show off the advantages, Bose handed the stage to Gregg Ostrowski, Senior Director of Enterprise Developer and Technical Partnerships, BlackBerry, who gave a demonstration using a Z10 hooked up to the enormous projection screens behind the stage.
By now, everyone knows what the Z10 can do, but Ostrowski's presentation still garnered approving nods from members of the audience. This is a good device, seemed to be the consensus, and no doubt any end user would be happy to receive one from their company.
But what can the new device do for the enterprise? Well, who better to demonstrate this than a representative from one of BlackBerry's biggest customers in the region, Emirates Group? It was time for Sanjay Sharma, Principal Architect, Emirates Group, to take the stage. He was asked questions about the group by Khaled Kefel, Managing Director for Saudi Arabia, BlackBerry.
"Emirate Group is vast, employing about 50,000 people," Sharma said when asked about his organisation's requirements. "Last year, we started our mobility solutions, but they change every six months because it's a very volatile area. We have crew, we have people in the operational area, we have executive management and we have consumers. We've divided our mobile solutions into these areas."
And can BlackBerry help in these areas? "We have 22 apps that we've rolled out to employees in different business areas," Sharma answered. "There are many apps that are only available on BlackBerry. Also, the biggest challenge was to induce security into our apps. The BlackBerry 10 [operating system] is very close to my heart, because it can segregate personal and office workspaces, keeping business apps where they need to be."
From there, the keynote presentation moved on to BlackBerry's new mobile device management (MDM) suite, BlackBerry Enterprise Services. Essentially, it's a dashboard and server that will manage any device connected to a company's network, be it a BlackBerry, iPhone or Android. During a demonstration, it certainly looked superbly easy to use –you don't need to be an IT manager to get your ahead around it, by any means.
Of course, though, the Z10 smartphone will work best with this suite, allowing users to easily connect with the company network by following a few simple steps. Kefel said that it was all about ensuring good services are delivered, as well as guaranteeing security, but also providing a great user experience, and BlackBerry seems to have done that with the Z10.
Listening to snippets of conversation in the foyer after the presentation, it was clear that visitors thought so, too. Every huddled group of people seemed to be praising either the new phone or the new management suite. The slick presentation had done its job, then.
Perhaps soon, BlackBerry won't need to make such a show of events like this, because as it turns out, the firm's next generation of products are speaking for themselves. It just goes to show that, no matter how much you dress your brand up, your offerings are what really matter.