Criteo called upon journalists from across the EMEA region to meet at its HQ in Paris to explore the power of data in the retail industry and the vital role of mobile in marketing. Glesni Holland reports.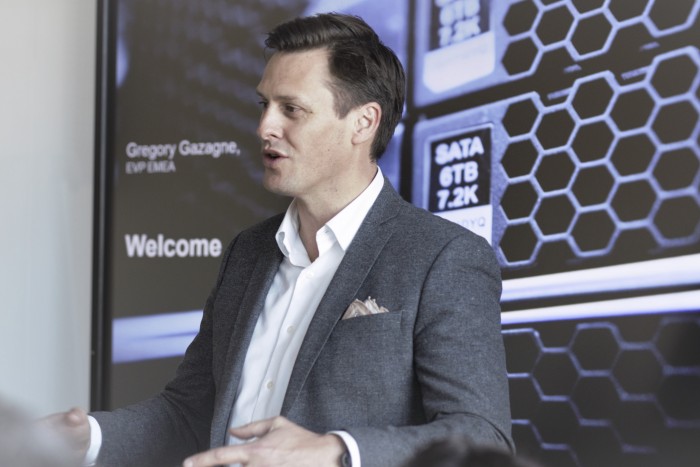 Meet Lou Werner. Forty-five-year-old Lou has transformed her shop in Xiabao, China, into a real-time-responsive, data-enabled e-commerce hub. She recognised the need to adapt in 2013, after two of her competitors in the same village fell victim to the online and mobile shopping boom. Installing digital weighing scales and laser scanners connected to Internet-enabled touch points was not all – she also installed a 42-inch plasma screen to control her WeChat app. This allows her to have direct access to her customers at any time of day; she can post offers, source requirements and alert shoppers when certain items come into stock. The data that is collected via her customers' buying habits is now available through online databases to markets across the globe, which were previously unable to access consumer behaviour trends from such a rural area.
Lou reinvented her business model by buying into an omnichannel approach, one which digital marketing company, Criteo, is a major advocate of. Founded in 2005 by a small group of eager tech enthusiasts huddled in a Paris incubator, it's fair to say that Criteo has come a long way since its inception. With a total revenue of $1.7 billion in 2016, it has quickly grown its presence to having over 30 offices worldwide, and has expanded its employee base to 2,500.
As the e-commerce landscape becomes increasingly prominent, Criteo has acknowledged the need to expand its operations to focus on user-centric marketing. Gregory Gazagne, executive vice president of the EMEA region, has been at the company for seven-and-a-half years. "When I started, real time bidding for advertising wasn't our primary focus," he said. "But very quickly, we saw the need to create a user bidding engine, and our R&D team were very keen for us to go mobile at that stage."
At the time, just 2 percent of e-commerce sales were being conducted over mobile. "Now, more than 60 percent of our revenue is driven through mobile transactions," Gazagne said. "What's more, in Q4 of 2016, 50 percent of mobile transactions on our network were done through apps."
Recognising this surge in mobile transactions triggered the need to optimise the company's approach. Criteo's Ben Cooper, managing director of brand solutions for EMEA, quoted Frost & Sullivan and defined omnichannel as "seamless and effortless, high-quality customer experiences that occur within and between contact channels." He used the example of Sir Pryce Pryce-Jones, a British entrepreneur that sold welsh flannels in the 19th century and had been conducting a multichannel business since 1861 by selling his products through both shops and catalogues.
He went on to explain how retailers and brands are often organised around silos of channels, due to the skill sets that have evolved to address certain areas of business, which in turn have created challenges in unlocking the power of omnichannel. "Having access to this value is what gives markets the ability to be more efficient," he said.
He continued by aligning Werner's story with the societal change that has been brought on by the influence of omnichannel, claiming that the shop has "basically become Walmart" to the 1,000-person village. "I would argue that at the centre of this story is the smartphone," he added. "If the holy grail of marketing is to create a single customer view, then surely the focus of a strategy should be around the device that we constantly carry with us?" A 2016 report by Deloitte revealed that the average person looks at their smartphone 47 times per day, with the number rising to 82 for 18-24-year-olds.
However, the need for a physical presence still very much stands in Cooper's opinion. In 2016, 16.8 percent of all UK transactions – a market which has various commonalities with the UAE – were conducted in a digital format – 50 percent of these were through a mobile platform. Yet that still means that over 4/5 of retail still took place within a physical shop.
"One of the biggest endorsements of shops still being very relevant is the fact that Amazon is opening one," added Cooper. "They know that if they want to survive, they need to put themselves on the ground and in front of the customer." While Amazon Go is currently only being explored in the US, Cooper is confident that we will soon see this develop across the EMEA region.
In 2016, Criteo analysed sales transactions worth over $550 billion through its "transparent, cost-per-click model," which enables the company to gather value from data based purely on post-click sales, to then relay this valuable information to customers. This involves collecting a huge amount of data, and hosting it in data centres across the globe.
Criteo currently rents storage space in ten Equinix data centres worldwide, one of which is situated in Paris. When questioned why the company didn't opt for a cloud-hosting provider to reduce spending on hardware and enable a more scalable solution, Justin Coffey, senior staff development lead, Criteo, said, "Amazon solved this problem for many companies, but they didn't solve it for us. Obviously one of our busiest periods is Black Friday, and when we first begun negotiations with Amazon, we naively thought that we could load our data onto their S3 solution, as it is relatively inexpensive. However, to do that we would have had to reserve our instances ahead of time, meaning we would have had to pay for the hardware anyway."
He added, "If you begin your operations in the cloud, then it is much easier. Re-instrumenting everything from an on-premise state makes the transition difficult for us."