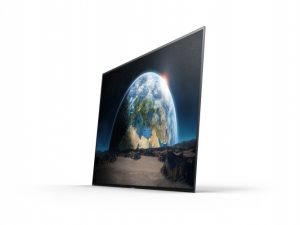 Sony Middle East and Africa announced that consumers from the UAE will be able to make pre-bookings for its 55-inch and 65-inch Bravia OLED TV A1 series from Sony Centre at The Dubai Mall and other key retailers from the 17th May till the 30th June. The television will be available in stores from July 2017, and consumers who pre-book the product will receive the Xperia XZ Premium smartphone for free. Consumers can also pre-book online at https://goo.gl/5miiX7
According to the company, the Bravia OLED TV A1 series offers superior picture quality of OLED powered by Sony's 4K HDR Processor X1 Extreme, with the firm's Acoustic Surface sound system, and an edge-to-edge stand-less form factor. With over 8 million self-illuminating pixels, the series bring a significantly enriched visual experience with unprecedented black levels, rich and lifelike color, dynamic contrast, blur-less image and a wide viewing angle. The 4K HDR Processor X1 Extreme extends the capability of OLED to deliver an exquisite 4K HDR picture.
"The Bravia OLED TV A1 Series will be a new addition to an array of best in class televisions that will expand from 23 models in 2016 to 37 models in 2017, offering customers a wider choice. Sony has over 10 years of OLED experience, and is pleased to introduce the Bravia OLED TV A1 series to the Middle East market," said Shoji Ohama, head, TV Marketing, Sony Middle East and Africa. "The Bravia OLED TV A1 series offers a completely new visual experience.  The final product is a combination of Sony's superior picture quality through our proprietary 4K HDR Processor X1 Extreme, and revolutionary sound from the screen itself – only made possible by Sony's newly developed Acoustic Surface technology. The TV's streamlined and minimalistic design truly makes it a technology marvel."
These new televisions are powered by Android TV which brings movies, TV shows and thousands of apps into the home, making it easy to watch broadcast and cable TV, download entertainment, and play Android games directly on your television.
The 55-inch television can be bought for AED 14,999 while the 65-inch is retailing at 19,999 in the UAE.